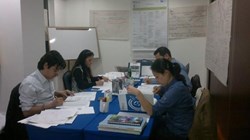 What differentiates us is our quality courseware, experienced faculty, well designed case studies and simulation exercises that ensure the participants not only internalize the concepts but also get the practical working knowledge of Project Management.
(PRWEB) September 26, 2013
The change has been significant in the new edition. With the PMI® recognizing Project Stakeholder Management as a separate knowledge area, the excitement is multiplied among the prospective PMP's and existing certificate holders. While the existing certificate holders are looking to update their existing skill sets, most of the "yet to be certified" managers are raising a common voice – "Will the new edition pose a tougher challenge to make it through the exam?"
The new version of PMBOK® Guide has 5 newly added processes thus increasing the total of processes to 47 and 1 additional knowledge area increasing the number of knowledge areas to 10. This looks more systematic and organized from the academic view point. Also, the contemporary knowledge and best practices in the field of project management have been covered in detail in the new edition. While this is a significant change from the perspective of both - the trainer and the student, an Executive member of the Academic team from PMstudy mentioned "We are cognizant of the changes in the new version. We have already updated ourselves in terms of both the PMP training and testing inputs to the students to ensure their success in the exam".
PMstudy has introduced Live Virtual classes to enable the students with the flexibility to learn. These live virtual classes will be led by qualified instructors and the students get connected with the instructor through a virtual interface aided by internet. The set-up will just resemble a classroom. The students can access the live lecture from their computer or iPad and this takes learning to newer heights. "We are trying our best to incorporate technology in education to facilitate new age learning. This model not only simulates a classroom but also adds flexibility to the student" mentioned another team member from PMstudy.
PMstudy will be shipping headsets, along with the study materials, to the students who attend their virtual classes. This will enable the students to listen to the lectures without any disturbance. Also, PMstudy has started shipping a copy of PMBOK® Guide 5th edition to all of its students for free from August 1, 2013.
It has been just around 2 months since the exam based on the new edition is in place and PMstudy has already trained hundreds of students to clear the PMP® exam. Further, PMstudy is all set to become the preferred choice for professionals in PMP Certification and a clear market leader in the training and certification industry.