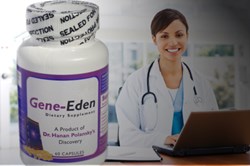 There are a lot of people, especially those in a higher risk group, that should seek an effective remedy that can help their immune systems target the latent virus. – Mike Evans, polyDNA
Rochester, NY (PRWEB) September 25, 2013
polyDNA's September survey showed that many people don't know that the common herpes virus (HSV-1) can kill. One way the virus can kill is by causing an inflammation of the brain, called encephalitis (1). The virus can also cause "personality changes, seizures, weakness, and other symptoms depending on the part of the brain affected (1)." HSV-1 is best known for causing cold sores and fever blisters.
WebMD reports that "Herpes simplex type 1 virus is one of the more common and serious causes of viral encephalitis. Herpes-related encephalitis can erupt rapidly, and may cause seizures or mental changes and even lead to coma or death. It occurs when the herpes simplex type 1 virus travels to the brain rather than moving through the body to the surface of the skin and producing its more common symptom, a cold sore (1)."
In addition, Patient.co.uk says in a page last updated on August 2010 that "Untreated herpes simplex encephalitis (HSE) is progressive and often fatal within 7-14 days. There is a 70% mortality rate in untreated patients and more than half of the untreated survivors have severe neurological deficits (2)." However, even among treated patients, at least 19% still die (2). In addition, even with early administration of therapy, nearly two thirds of survivors will have significant residual neurological deficits (2).
In the open comments section of polyDNA's survey, Earl B. of New York said, "I've gotten fever blisters since I was a kid. But, nobody ever told me my brain could swell up and I could die from the same virus!"
polyDNA points out that certain populations are at a higher risk of developing herpes related encephalitis. These populations include "Children, the elderly, and those with a weak immune system (1)."
"The CDC estimates that, annually, 776,000 people in the United States get new herpes infections (3). A number of these could end up with encephalitis caused by the herpes virus. That means there are a lot of people, especially those in a higher risk group, that should seek an effective remedy that can help their immune systems target the latent virus." – Mike Evans, polyDNA
Gene-Eden-VIR is a natural EBV remedy that was designed to help the immune system target latent viruses. A recent post marketing clinical study published in the peer reviewed, medical journal Pharmacology & Pharmacy, in a special edition on Advances in Antiviral Drugs on August 12, 2013 showed that Gene-Eden-VIR is safe and effective (4). Additionally, up to 70% of those studied reported a decrease in viral symptoms (4).
Each ingredient of Gene-Eden-VIR was chosen through a scientific approach. Scientists scanned thousands of scientific and medical papers published in various medical and scientific journals around the world to identify the safest, most effective natural ingredients that target the latent form of herpes. (4)
To learn more about Gene-Eden-VIR and herpes, visit http://www.gene-eden-kill-virus.com/Herpes-Remedy.php. All orders of Gene-Eden-VIR are completely confidential, and no information is shared or sold to any third party. Privacy is assured.
Reference:
(1) http://www.webmd.com/a-to-z-guides/understanding-encephalitis-basics (2) http://www.patient.co.uk/doctor/herpes-simplex-encephalitis
(3) http://www.cdc.gov/std/herpes/STDFact-Herpes.htm
(4) http://www.scirp.org/journal/PaperInformation.aspx?PaperID=36101
polyDNA is a biotechnology company that develops dietary supplements using the unique scientific method developed by Dr. Hanan Polansky, which is based on Computer Intuition.
In addition to his unique scientific method, Dr. Polansky published the highly acclaimed scientific discovery, called Microcompetition with Foreign DNA. The discovery explains how foreign DNA fragments, and specifically, DNA of latent viruses, cause most major diseases.
polyDNA developed Gene-Eden-VIR , an antiviral natural remedy that helps the immune system kill latent viruses.