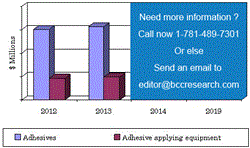 Wellesley, MA (PRWEB) September 27, 2013
According to a new technical market research report, Adhesives and Adhesive Applicators: Technologies and Global Markets from BCC Research (http://www.bccresearch.com), the global market for adhesives and adhesive applicators was valued at $39.4 billion in 2012 and is projected to reach $41.1 billion in 2013 and $42.8 billion in 2014. BCC Research projects that the market will grow to nearly $51.4 billion by 2019, and register a five-year compound annual growth rate (CAGR) of 3.7%.
The adhesives industry consists primarily of manufacturers of industrial and household adhesives and glues. However, the factors influencing the growth of this industry are derived from the stability of other industries using its products, as well as the availability of raw materials and environmental concerns. As the adhesive market depends greatly upon secondary industries, trends in other sectors of the economy can have a big impact on this market. One sector showing increasing interest in adhesives is the automotive industry. Products expected to see the most growth include electronics adhesives for printed wiring boards, hot-melt systems, and automotive adhesives.
Increased demand for adhesives is driven by the emergence of new market applications that have resulted from evolving and improving assembly processes. Growth opportunities have been brought about by a shift from major forms of industrial joining such as welding and mechanical fastening to adhesive bonding in major industries. Similarly, miniaturization of components in the electronics industries has allowed the use of adhesives to replace soldering and brazing. Nanoengineered adhesives that combine superior mechanical properties with wear resistance and dimensional stability are also increasing the demand for adhesives in various industries.
The industry grew steadily but slowly in the last two decades. Individual companies seeking to increase their revenues looked to mergers and acquisitions, particularly in Asian markets, where industry growth was expected to surpass that in the United States. At the same time, foreign companies increasingly invested in U.S. firms, such that the industry became both more globalized and more consolidated. As specialized applications for adhesives increased in demand, smaller firms were able to carve out their own position. Nonetheless, larger companies began to take a larger portion of market share and over 55% of the market was controlled by the top 20 companies in 2010.
This report from BCC Research provides a comprehensive overview of the technologies involved in the manufacturing of different types of adhesives. It discusses the value of such products produced and utilized globally as well as in different regions during the last three years, and presents forecasts for the next five years. The environmental impact of the use of various types of adhesives is also reviewed, as are the raw material requirements for global and regional production of adhesives and the effect of raw material supply over the production, pricing, and distribution of these products.
In addition, the report evaluates the product lifestyle and technology lifestyle (TLC) of various types of adhesives and methods employed by various manufacturers and users in terms of environmental sustainability. Various types of new adhesives, such as nanoglues, that are becoming more popular in various applications are also studied. Finally, the report profiles various major manufacturers and suppliers of adhesives, and discusses the various mergers and acquisitions in this field.
This report is intended to help marketing managers identify newer market opportunities and develop targeted promotion plans for adhesives. Research and development (R&D) and advertising professionals, market researchers, brand and product managers, and business development executives will also benefit from this report.