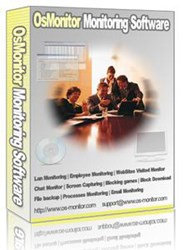 (PRWEB) September 24, 2013
Recently, os-monitor.com, the company offering monitoring software programs for companies of all sizes, has introduced its high quality OsMonitor employee monitoring software.
This software is designed solely for helping organizations improve employee performance and hence organizational efficiency and productivity. Computer systems connected to the internet are of vital importance for the success of an organization today; a company cannot survive without technological advancements but however, while there are several merits of using technology, organizations have to deal with some of its demerits as well. When employees are given a free hand on computers and the internet, their attention diverts to leisure activities and they compromise work time. This results in loss for the company. This, in severe cases, has also resulted in serious security breaches. Hence, this has emerged as one of the biggest threats for businesses.
OSmonitor is the answer to all such issues. It is monitoring software which keeps a check on every employee's computer and monitors their activities. Whether employees visit some website, send some email, use data transfer or install some applications, osmonitor will detect and report everything. It works as an effective surveillance system. The software has many advance features which allow a considerable degree of control over employee computers. This way, employees can be stopped from wasting their time and focus on their work only. Not only does this allow monitoring of computers, but the employer can also apply several restrictions on employee computers to ensure company's safety.
OS-monitor.com is a website owned by Wangya Computer Co., Ltd established in the year 2006. It specializes in supplying employee monitoring software programs and network monitoring software programs.
More information can be found at http://www.os-monitor.com/