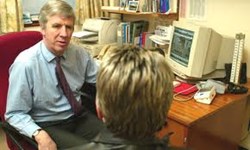 We need a much better way for vulnerable old people to journey through the NHS.
Bolton, UK (PRWEB UK) 25 September 2013
According to the BBC, Elderly Patients often feel as though there is no reliable alternative to hospital (1). With GP Negligence highlighted as one of the reasons for such failures, it has been suggested that significant improvements need to take place.
Writing in the Daily Telegraph, Health Secretary Jeremy Hunt discusses the need for changes to take place, in the hope that patient care for the elderly improves (1).
In his statement, he discussed his proposed changes (1)-
"We need a much better way for vulnerable old people to journey through the NHS."
"They need someone from the service to be keeping tabs on them and championing them through the system all the time - and making sure they're a name, not a number, whether or not they are in hospital."
"As a member of the public I would like that responsible person to be my GP - but of course they will need support from many others, including our dedicated district nurses."
Encouraging links between GP's and their patients should ease the pressure currently placed on over stretched emergency departments, with the added advantage of improving patient care (1).
Considering Mr Hunt's assertions, Asons Executive, Laura Williams -
"The benefits of a relationship between a patient and a GP are clear. Having someone with a clear understanding of your medical history can help prevent various medical errors, such as a misdiagnosis."
"This is especially crucial in Elderly patient care, where a thorough knowledge of past ailments and allergies can be key. At Asons Solicitors, we see medical claims that could have been avoided with a thorough knowledge of the patient's history. For example, some surgical errors can be avoided if underlying issues, that have the potential to cause complications, are taken into account."
"The changes proposed by Jeremy Hunt could significantly improve the level of patient care, not just for the elderly, but for the general public."
In the event of clinical negligence, then legal advice must be sought as quickly as possible. Taking action can prevent the same situation from reoccurring, helping others to avoid injury in future.
If someone have suffered then they may be able to make a GP Negligence claim for compensation. Asons Solicitors deal with for NHS compensation on a regular basis, they can be contacted on: 0844 850 1062.
-Sources-
(1) BBC News, 'Jeremy Hunt calls for GPs to improve care for elderly' (15/08/2013) bbc.co.uk/news/health-24026646
About Asons Solicitors:
Asons Solicitors is a Bolton-based law practice that specialises in personal injury and industrial disease claims. Founded by brothers Imran Akram and Kamran Akram, Asons Solicitors has developed to become a young and dynamic law firm that delivers practical solutions to clients in times of difficulty. Their continued focus on their staff has seen them awarded with the Investors in People "Gold Award"; which is reflected in the professional and personable approach they take in working with clients. They strive to grow and to develop, and their supportiveness and attention to detail ensures that their clients use them time and again.