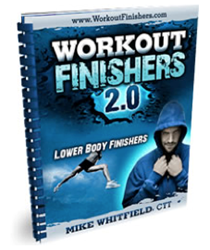 Workout Finishers 2.0 is a complete package of materials anyone can use to burn fat quickly with routines that consume less time.
Los Angeles, California (PRWEB) September 26, 2013
Workout Finishers 2.0 is now available at Go and Get Healthy website. It is a training program led by Mike Whitfield enabling people to lose body fat with simple exercises. It provides four strategies with exercises taking as little as three minutes apiece. None have anything to do with cardio workouts and equipment; the author claims to have lost 105 pounds and 14 inches from his waist using the program.
Workout Finishers 2.0 introduces Metabolic Stacking, which consists of four variables: Density, Active Recovery, Strategic Rest Periods, and High Volume Using Unique Set and Rep Schemes. The idea is to maximize the number of calories burned. These numbers are often overestimated on various types of equipment, such as stationary bikes, stair climbers, and more. The program, as an alternative, involves lighter weights, but finishes a workout with a high volume of high reps, to maximize the calories burned.
It also provides an easier way to schedule routines to maximize their effect on specific parts of the body. Users also learn how to create more dense and defined muscle, use finishers on off days to speed up fat loss, and create one's own workout. This flexibility saves time while enabling people to reach their own potential in terms of burning fat.
In addition, Workout Finishers 2.0 avoids overtraining and workouts can be completed in less than 10 minutes. It also improves athleticism and workout performance. People can also create their own workouts using over 50 different exercises. Included in the program are Density Finishers based on metabolic density training, Metabolic Circuit Finishers, Ladder Finishers, Gauntlet Finishers, Superset Finishers, and the Finishers Exercise Library. Two bonuses, 10 Upper Body Finishers and 10 Lower Body Finishers, are also included.
"Workout Finishers 2.0 is a complete package of materials anyone can use to burn fat quickly with routines that consume less time. Customers also receive the Metabolic Chaos 4-week program, Finishers Aggression 7-day workout system, plus meal and lifestyle and nutrition plans to maximize the value of the program," a Go and Get Healthy spokesperson said.
The entire set can now be purchased online for $27. For more details on Workout Finishers 2.0 and the accompanying materials, go to Go and Get Healthy website.
About Go and Get Healthy
Go and Get Healthy is a health product information and review website. Covering topics such as alternative health, wellness, and healthy living, it features posts on the latest programs for weight loss, muscle building, and other common health subjects. This website is divided up into Men's Health, Women's Health, and Weight Loss categories, updated as new health products become available. To learn more, go to Go and Get Healthy website.