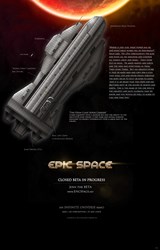 This ship will be extremely effective when crewed by real life players.
Denver, CO (PRWEB) September 24, 2013
The Alpha Company, an independent development studio led by Edward Melville, has successfully reached its initial goal and one of its stretch goals on Kickstarter for its flag ship game Epic Space Online. The campaign is raising funds to expand Epic Space Online, and allow large capital ship type vessels that when crewed by real people, become one of the most sought after, and effective ships in the game.
"This has never been done before in a 2D Space game and will be a significant feat. But the end result will be a ship flyable by anyone, where you can transport goods, people, and anything else you can think of across an infinite universe."
Also announced, is the initial design of the "Odin". The primary "Super Carrier" in the game. This ship will sport FTL capability, a landing bay, ship to ship missiles, flak turrets, and advanced hull plating. This ship will be extremely effective when crewed by real life players. You can view the Odin on Epic Space Online's official Kickstarter page below.
Further Information about Epic Space Online

About Epic Space Online:
Epic Space Online is an ambitious and captivating 2D MMO that hosts players in a single universe with absolutely no borders or boundaries. You can fly in any direction in a procedurally generated universe.
In ESO, players are involved in an intergalactic gold rush which has them vieing for Sectors. The more sectors you control, the more revenue you generate. Trade, Pirate, Conquer, or Negotiate to your objectives in this Infinite Universe. Available for PC, Mac, and Linux.
Press Contact
Edward Melville
Edward(at)TheAlphaCompany(dot)net
The Alpha Company, LLC
8461 Turnpike Dr. STE 210
Westminster, CO 80031
Phone: (800) 434-9132
Fax: (303)-952-0033
http://www.TheAlphaCompany.net