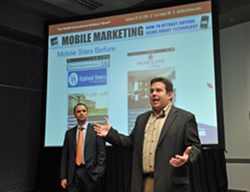 Atlanta, Georgia (PRWEB) September 25, 2013
mRELEVANCE, LLC managing partners Mitch Levinson and Carol Morgan will return to Las Vegas in February 2014 as they speak at the newly combined International Builders' Show (IBS) and Kitchen and Bath Industry Show (KBIS).
During IBS, Levinson and Morgan will share the stage with other industry marketing professionals as they present a lightening round of the Best Digital Marketing Tools of 2014. Tools to be covered in this session will include contests, email marketing, YouTube, mobile sites, Facebook, Google+, SEO, Houzz, LinkedIn, Pinterest, blogs and Twitter. Morgan will also once again partner up with the National Association of Home Builders' (NAHB) social media guru Chad Davis to present The State of Social Media 2014, which will cover today's trends in social media based on their own reflections and industry research.
As part of KBIS, Levinson will present My Brother Built It, Why Doesn't It Work on February 4. This informational session will help attendees learn how to assess their company's website effectiveness, identify common mistakes and find out what they can do to fix them and improve their overall website design to increase sales. On February 6, Morgan will present Beyond Facebook: Pinterest, Google+ and More, which analyzes successful social media campaigns from around the country to demonstrate how you can embrace social media tools to capture more leads and sales.
2014 is the first year that IBS and KBIS will be sharing a stage in Las Vegas at the Las Vegas Convention Center. In addition to offering educational sessions from the industry's most respected experts, attendees will be able to walk the show floor to see exhibits and attend special events throughout the three days. Registration for both shows is now open and expo passes are on sale, so be sure to secure your seat in Levinson's and Morgan's presentations.
If you aren't able to attend this year's shows, Levinson and Morgan offer courses on Internet marketing, social media, customer relationship management, website optimization and tracking and analytics to organizations, businesses and associations across the country. Book Levinson or Morgan to learn about the latest trends, best practices and cutting-edge tools and insights. Programs are tailored to be relevant to each audience and designed to challenge participants to rethink their approach to create relevance in the marketplace. Contact Marketing RELEVANCE at 770-383-3360 to learn more.
About mRELEVANCE LLC: Marketing RELEVANCE creates relevant marketing and communications that reach audiences with focused and strategic messages. Through technology and creative content, messages are delivered to target markets to encourage customer action and interaction. With offices in Atlanta and Chicago, mRELEVANCE can connect your company with buyers and build relevant relationships nationwide. For more information, visit http://www.mRELEVANCE.com, Like us on Facebook at http://www.Facebook.com/mRELEVANCE, Follow us on Twitter at @mRELEVANCE or call 770-383-3360 or 847-259-7312.
# # #