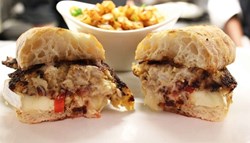 (PRWEB) September 25, 2013
GetMaineLobster.com recently announced its weekly seafood specials on fresh Maine Jonah crab meat and Maine Jonah crab claws. To further enhance the appeal of these discounts of more than 30 percent off of the retail price, the live Maine lobster and seafood delivery service is sharing its newest seafood recipe for Fresh Maine Crab Sliders.
This melt-in-your-mouth crab slider is delicious and easy to prepare. Ingredients include one 12-pack of slider rolls, two pounds of Maine crab meat, six slices of cooked bacon sliced in half, one Roma tomato, one ripe avocado, butter, two cups of heavy cream and two limes.
First, cook the bacon in a sauté pan until it is crispy, cut in half and set aside on a paper towel. Separately, slice the tomato and the peeled avocado and set aside. Then, add the heavy cream to the sauté pan and bring to a boil. Add the juice of one lime and reduce the mixture to a good consistency and set aside. Next, melt some butter over medium heat and toast the slider rolls until golden brown. Put the rolls on a plate in preparation of building the Maine crab sliders.
Add the avocado and then add a generous portion of fresh Maine crab meat. Next, add one half of a slice of bacon and then drizzle some of the lime-cream sauce. Finally, add the tomato and the top half of the slider bun and enjoy!
Now is the perfect time to try out this delicious recipe as GetMaineLobster.com is offering 30-percent discounts on Maine Jonah crab meat and crab claws!
Browse Get Maine Lobster's wide range of seafood offerings, access other healthy lobster recipes or view current specials by visiting GetMaineLobster.com or call (866) 562-.4817. Stay updated and Like us at Facebook.com/GetMaineLobster or follow us at Twitter.com/GetMaineLobster. For even more lobster news and recipes go to JustAddLobster.com.
About GetMaineLobster.com
GetMaineLobster.com, a division of Black Point Seafood and Black Point Gourmet, hand-selects the finest Maine lobster, seafood and beef products for convenient distribution throughout the United States. Their passion is to make fresh, quality seafood readily available to customers across the country, which is why they buy from only the most trusted, well-established suppliers to ensure that they receive the finest products available.
GetMaineLobster.com was selected out of the more than four million small American businesses served by Chase bank to represent its new Platinum Business Checking product for its 2013 national advertising campaign.