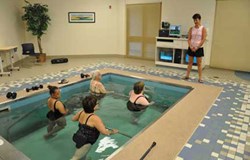 You can't believe how happy I am... Being in the HydroWorx pool allowed me to be able to get up from a sitting position. I never dreamed of how much improvement I could make in such a short time.
MIddletown, PA (PRWEB) September 24, 2013
As we age, our overall well-being may be connected to the social networks we create and enjoy. According to a 2009 abstract published by the US National Library of Medicine National Institutes of Health, as seniors' perceptions of their isolation increased, their physical and health could be expected to wane. The findings of the study entitled "Social Disconnectedness, Perceived Isolation, and Health among Older Adults" illustrate the importance of becoming and staying part of a community into the senior years of one's life.
This reality dovetails seamlessly in to the International Council on Active Aging's (ICAA) "Active Aging Week". From Sunday, September 23, to Saturday, September 28, the ICAA is encouraging its members to discover their communities and all they have to offer. As shown by the aforementioned study, looking for opportunities to engage with likeminded peers might not just result in new interactions; it could extend the quality of their lives.
One proven way for aging Baby Boomers to stay connected with their communities is via fitness activities. Unfortunately, many seniors struggle with aging-related issues that preclude them from engaging in sports that they love. Many fear falling because of weakened muscles and core stability. (The Centers for Disease control notes that one-third of Americans aged 65+ will fall each year.) Others hesitate to exercise because of intense joint pain caused by a wide variety of conditions and medical treatments. Some simply carry too much weight on their bodies to make traditional workouts a comfortable experience. Thus, they reluctantly withdraw from exercise situations where they could enjoy the advantages of being part of a community while simultaneously getting healthier.
What many people who fall into those categories don't realize is that there is an alternative for them. Specifically, that alternative involves working out in a warm-water therapy pool with variable depth floor and underwater treadmill. This type of secure environment reduces the fear of falling, it places virtually no pressure on sore joints, and it can allow an overweight or obese adult to feel up to 80 percent lighter than on land.
Case in point: Numerous senior living communities have installed the HydroWorx line of therapy pools in their fitness areas. In the therapy pool, exercisers can stay up to date with friends while increasing overall lean muscle mass, strength and stamina. Plus, they are likely to stick with a program that provides them with physical and social gratification.
For one MS and Parkinson's sufferer, the strides she made with aquatic therapy were unbelievable. "You can't believe how happy I am that I was able to find some means of helping get my strength back. Being in the HydroWorx pool allowed me to be able to get up from a sitting position. I never dreamed of how much improvement I could make in such a short time," said Virginia, a HydroWorx user at Walnut Ridge Senior Community.
In the end, if low-impact workouts in a therapy pool with underwater treadmill can provide freedom, fun and fitness, why wouldn't a community want to discover how it can offer this type of option to its audience?
About HydroWorx
HydroWorx, a proud partner of the ICAA, is based in Middletown, Pennsylvania. The company offers a wide range of underwater treadmill pools, and peripheral products and services. Every day, more than 23,000 athletes and patients use HydroWorx technology to recover from injuries and health conditions.
More information about HydroWorx's upcoming webinars, as well as archived webcasts from previous events, can be found by visiting http://www.hydroworx.com/research-education/video-library/details.aspx?id=151&categoryId=23.