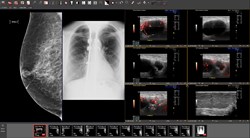 Visage strives to release product upgrades at unparalleled velocity, helping customers differentiate and offer the best possible service.
San Diego, CA (PRWEB) September 24, 2013
Release velocity continues with impressive enterprise and mobile enhancements.
Visage Imaging Inc. ("Visage"), a wholly owned subsidiary of Pro Medicus Ltd. (ASX: PME), announced today that they have released version 7.1.4 of the Visage® 7 Enterprise Imaging Platform, as well as Visage Ease(sm) version 1.4.2*. Visage 7 enables enterprise imaging with amazingly fast, thin-client, server-side processing technology, as well as simple mobile access to imaging results via Visage Ease.
Visage empowers customers into the future with forward thinking, cutting edge innovations. Highlighting the significant enhancements of the latest release, Visage 7.1.4 offers enhanced integration and enterprise scale with third party workflow solutions. Visage 7 supports sophisticated bi-directional context management when interacting with third party worklist and RIS systems. Visage 7 can automatically send notifications to third party systems when a user opens an additional study (or studies) for display in the Visage 7 client. Additionally, the Visage 7 client automatically responds to changes requested by third party worklist and RIS systems, for example adding an additional study (or studies) to the current Visage session. This level of interoperability enables an optimal single desktop experience. For example, when integrated with the Medicalis Professional Solution(TM) workflow platform, additional prior studies launched in Visage 7 result in the display of relevant patient information in Medicalis Professional Solution, and similarly, the selection of additional studies for viewing in Medicalis Professional Solution result in the additional prior studies automatically displayed in Visage 7.
Visage is not only committed to making image access faster, but also easier. Visage 7 now supports token-based image access via encrypted links embedded in radiology reports. When integrated with RIS and/or EMR solutions that support this capability, authorized referring physicians who have access to reports can simply click on the link(s) and they are able to securely view their patient's images whether or not they have a Visage 7 user account. This capability is currently available for Visage RIS customers in Australia.
Visage has also added new usability features to Visage Ease, which provides authorized healthcare providers simple mobile access to imaging results using iPhone, iPad or iPod Touch iOS devices. Available via the Apple App Store, Visage Ease 1.4.2 offers many new features including gesture-based refresh of queries, DICOM window/level (W/L) presets (automatically presented based on user preferences and modality), LDAP/Active Directory authentication and voice memo attachments**. Once voice memos have been uploaded via Visage Ease, all privileged users can access voice memos from the Visage 7 thin-client, helping to improve provider communication and collaboration.
"Visage strives to release product upgrades at unparalleled velocity, helping customers differentiate and offer the best possible service. The latest releases of Visage 7 and Visage Ease reflect our steadfast commitment to rapidly bringing solutions to market," said Dr. Sam Hupert, Chief Executive Officer, Visage Imaging and Pro Medicus. "Today's uncertain radiology environment is providing customers a unique opportunity to lead and break from the pack of radiology providers who have been reluctant to adapt. While our technology is sophisticated, our philosophy is simple—we allow Visage customers to stay ahead."
*Visage Ease is not a medical device and must not be used for diagnosis.
**DICOM W/L, LDAP/Active Directory, and voice memos are supported when Visage Ease 1.4.2 is used with Visage 7 version 7.1.4.
About Visage Imaging, Inc.
Visage Imaging is a global provider of enterprise imaging and advanced visualization solutions for diagnostic imaging. Visage 7 delivers amazingly fast server-side rendered images streamed via an intelligent thin-client viewer. Radiologists and referring physicians have a customized, protocol-driven workflow to natively view 2D, 3D, 4D and advanced visualization imagery across a single desktop. Powerful imaging solutions include enterprise viewing and interpretation; image enablement of EMRs, VNAs, HIEs and portals; RIS/PACS, as well as anywhere mobile access. http://www.visageimaging.com
About Pro Medicus Limited
Pro Medicus Limited [ASX: PME] is Australia's leading medical IT and e-health provider. Founded in 1983, the company provides a full range of integrated software products and services to hospital, imaging centers and health care groups worldwide. http://www.promedicus.com
# # #
Contacts:
Brad Levin, General Manager, North America and Vice President, Global Marketing
Visage Imaging, Inc./ Pro Medicus Limited
Phone: (703) 858-5758 or (540) 454-9670
E-mail: blevin(at)visageimaging(dot)com
Visage, Visage Imaging and Visage Ease are registered trademarks and service marks of Pro Medicus Limited. Other product and company names mentioned may be trademarks and/or registered trademarks of their respective holders.