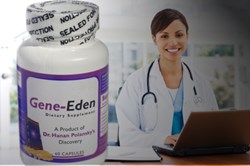 Doctors often prescribe rest, drinking a lot of water and taking pain medication. However, we recommend that individuals should also consider taking a natural antiviral supplement that helps the immune system target the herpes virus. – Mike Evans, polyDNA
Rochester, NY (PRWEB) September 26, 2013
polyDNA's September survey showed that many people don't know that herpes viruses can cause inflammation of the central nervous system according to Medscape.com (1). The symptoms include fever, headache, irritability, nausea, vomiting, stiff neck, rash, or fatigue, vomiting, diarrhea, cough, and pain. Headache is common and is often reported as severe (1). Human herpes viruses are best known for causing cold sores and sexually transmitted genital herpes.
Medscape.com says that "Herpes simplex virus (HSV)-1, HSV-2, varicella-zoster virus (VZV), Ebstein-Barr virus (EBV), cytomegalovirus (CMV), and human herpesvirus-6 collectively cause … viral meningitis, with HSV-2 being the most common offender. The viruses may attack at any time of the year (1)." In addition, "sexual contact with actively infected individuals is one of the known risk factors (1)."
The CDC says that "Viral meningitis can affect anyone. But infants younger than 1 month old and people whose immune systems are weak are at higher risk for severe infection. People who are around someone with viral meningitis have a chance of becoming infected with the virus that made that person sick (2)." One major risk factor is a weak immune system. "There are certain diseases, medications and surgical procedures that may weaken the immune system and increase risk of meningitis (2)."
In the open comments section of polyDNA's survey, Patty G. of San Francisco said, "I had surgery and I ended up with meningitis with the worst headache of my entire life. I would not wish that on anyone."
"Antibiotics do not help viral infections, so they are not useful in the treatment of viral meningitis. A hospital stay may be necessary in more severe cases or for people with weak immune systems (2)."
"Doctors often prescribe rest, drinking a lot of water and taking pain medication. However, we recommend that individuals should also consider taking a natural antiviral supplement that helps the immune system target the herpes virus." – Mike Evans, polyDNA
Gene-Eden-VIR is a natural herpes remedy that was designed to help the immune system target latent viruses. A recent post marketing clinical study published in the peer reviewed, medical journal Pharmacology & Pharmacy, in a special edition on Advances in Antiviral Drugs on August 12, 2013 showed that Gene-Eden-VIR is safe and effective (3). Additionally, up to 70% of those studied reported a decrease in viral symptoms (3).
Each ingredient of Gene-Eden-VIR was chosen through a scientific approach. Scientists scanned thousands of scientific and medical papers published in various medical and scientific journals around the world to identify the safest, most effective natural ingredients that target the latent form of herpes. (3)
To learn more about Gene-Eden-VIR and herpes, visit http://www.gene-eden-kill-virus.com/Herpes-Remedy.php. All orders of Gene-Eden-VIR are completely confidential, and no information is shared or sold to any third party. Privacy is assured.
Reference:
(1) http://emedicine.medscape.com/article/1168529-treatment
(2) http://www.cdc.gov/meningitis/viral.html
(3) http://www.scirp.org/journal/PaperInformation.aspx?PaperID=36101
polyDNA is a biotechnology company that develops dietary supplements using the unique scientific method developed by Dr. Hanan Polansky, which is based on Computer Intuition.
In addition to his unique scientific method, Dr. Polansky published the highly acclaimed scientific discovery, called Microcompetition with Foreign DNA. The discovery explains how foreign DNA fragments, and specifically, DNA of latent viruses, cause most major diseases.
polyDNA developed Gene-Eden-VIR , an antiviral natural remedy that helps the immune system kill latent viruses.