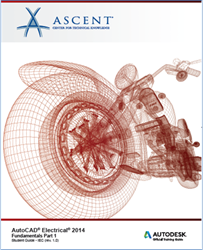 Partnering with ASCENT was natural, as both Logical Operations and ASCENT are committed to offering the most effective training solutions which provide professionals with the skills necessary to achieve success on the job. -Bill Rosenthal, CEO
Rochester, NY (PRWEB) September 25, 2013
Logical Operations today announced a new partnership with ASCENT that provides organizations worldwide with access to specialized training materials for Autodesk's leading design engineering software applications.
"ASCENT's Autodesk Official Training Guides (AOTG) are developed by a team of courseware developers, engineers, instructional designers, and technical writers who work together to create training solutions that meet the needs of our clients," commented Chantale Marchand, Vice President, ASCENT – Center for Technical Knowledge. "We are thrilled to enter into a partnership with Logical Operations and by extension, their established customer base with commercial training centers. We look forward to helping students and professionals use and improve their adoption of Autodesk tools in their design work," continued Marchand.
ASCENT creates training curriculum which prepares professionals in the engineering design, architectural, and manufacturing industries maximize their proficiency and productivity when using Autodesk design tools on the job. ASCENT courseware incorporates real-world examples and plenty of hands-on exercises so users can go back to their jobs feeling confident that they have mastered the software program.
"With over 20 years of experience, ASCENT is an expert at developing curriculum for Autodesk engineering software," said Bill Rosenthal, CEO of Logical Operations. "Partnering with ASCENT was natural, as both Logical Operations and ASCENT are committed to offering the most effective training solutions which provide professionals with the skills necessary to achieve success on the job."
About Logical Operations
Now in its 30th year, Logical Operations helps organizations and individuals maximize training with an adaptable expert-facilitated learning experience. Its more than 4,000 titles are available through flexible delivery platforms that are designed for any learning environment. For more information, connect with Logical Operations at http://logicaloperations.com and on twitter @logicalops.
About ASCENT
ASCENT-Center for Technical Knowledge develops professional training courseware and technical documentation for engineering software applications. ASCENT is an Authorized Author, Publisher and Developer of Autodesk curriculum and the sole provider of Autodesk Official Training Guides. ASCENT's courseware is used to train thousands of people in the engineering and manufacturing fields around the world each year. For more information, please visit http://www.ascented.com and follow @ASCENT_CTK on Twitter.