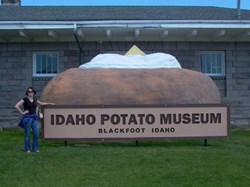 The Collectors Show on Web Talk Radio has increased its audience by combining unique collections and more serious content for expert collectors.
Houston, TX (PRWEB) September 24, 2013
To honor local heritage and history, citizens of Bingham County, Idaho converted a railroad building into The Potato Museum. Located strategically between Yellow Stone National Park and Jackson Hole, Wyoming, the Potato Museum is a fun place to stop and absorb the local culture, learn about what a poor speller but good sport former Vice President Dan Quayle was.
Once inside, visitors will see Marylyn Monroe wearing a potato sack dress, a thirty-foot long potato or a potato signed by Vice President Dan Quayle, who famously misspelled it ("potatoe") during his unsuccessful run for a second term as vice president in 1992. Historic!
A large part of Idaho's history and culture are tied to the potato. In Bingham County Idaho, practically everyone is or was associated with the potato in some way. Potatoes are interesting to collect because most everyone around the world ate, has eaten or is eating one right now! According to Tish Daman, the people who stop at the museum do so because "they love potatoes." And, potatoes are nutritious. Most people do not know this. In the months to come, a new display about potato sacks will be introduced. Like other forms of packaging, these sacks have great art on them and help to tell the story about the heritage of the potato.
To learn more, visit http://idahopotatomuseum.com
The "Value" Of Appraisals With Laurence C. Zale
In this week's installment, Laurence C. (Larry) Zale discusses the need for accurate and credible appraisals for collectibles and their owners.
http://www.visualartsadvisory.com/index.php.
Want More News About Collecting?
To learn more about all the latest there is to know about collecting, visit the web site at: http://collectorsshow.net. Follow the Collectors Show host on twitter, #hgnicoll. The show also has a Facebook page, https://www.facebook.com/thecollectorsshow?
Some collectors are casual about collecting and pick things up to add once in a while. These are not the people we talk to on The Collectors Show. Our guests are single minded folks whose collections are not just important but help to define them. They have a passion, and laser-like focus that gives insight into not just what makes for an interesting or even valuable collection, but let's us peer into their souls.