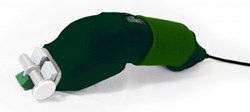 "We have found this non-invasive treatment as an effective modality and tool to reduce scar tissue," says North Texas Foot & Ankle podiatrist, Ronica Holcombe, DPM
Irving, Texas (PRWEB) September 26, 2013
The leading podiatry specialists at North Texas Foot & Ankle are proud to announce they now offer High Speed Vibration Therapy through use of the RRT Pro 1, a revolutionary breakthrough in therapeutic technology.
Rapid Release Therapy (RRT) is focused on relief of soft tissue problems affecting nerves, muscles, tendons, and ligaments. Soft tissue disorders typically result from overuse, injury, or surgery. Conditions caused by scarring of soft tissue include tarsal tunnel syndrome, neuromas, ankle pain, plantar fasciitis, post-surgical scarring and more. Rapid Release Technology is a safe and cost effective treatment for a wide range of these conditions.
"We have found this non-invasive treatment as an effective modality and tool to reduce scar tissue," says North Texas Foot & Ankle podiatrist, Ronica Holcombe, DPM, "In particular, the vibration therapy works exceptionally well to reduce post-surgical scarring."
The RRT Pro 1 is a high frequency vibration therapy device that will reduce pain, increase range of motion, and function by releasing scar tissue, adhesions and easing chronic and acute muscle spasm. The RRT Pro 1 uses special frequencies that have been determined as optimal for resonating with scar tissue.
Typically, multiple (5-10) treatments are required. The sessions are approximately 5-10 minutes and no anesthesia is required. The modality is also often covered by insurance plans.
To learn more about Rapid Release Therapy for treatment of pain and soft tissue conditions, call North Texas Foot & Ankle at (214)-574-9255 visit http://www.ntfoot.com.
About North Texas Foot & Ankle
Started in 2001, North Texas Foot & Ankle specializes in treatment of all foot and ankle disorders. The team of board-certified doctors and trained office staff work together to provide individualized attention and treatment, as well as to maintain lasting relationships with patients. Offering a comfortable environment equipped with cutting-edge podiatric technology, North Texas Foot & Ankle provide treatments for children, adults and seniors. North Texas Foot & Ankle continues to raise the standards of foot and ankle care in a friendly and professional atmosphere with uncompromised integrity. Visit http://www.ntfoot.com for more information, or like North Texas Foot & Ankle on Facebook at http://www.facebook.com/ntfoot.