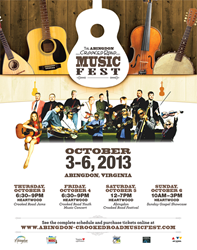 Abingdon, VA (PRWEB) September 25, 2013
The Crooked Road, in partnership with the Town of Abingdon, will hold the 2nd annual music festival devoted to telling the story of The Crooked Road: Virginia's Heritage Music Trail. On October 3rd-6th, 2013, Abingdon will be filled with the sounds of rich history and musical heritage of Southwest Virginia.
On Thursday, October 3rd, The Crooked Road Thursday Night Jam will kick off the festival. Get ready for some good ol' fashioned pickin' at the Heartwood Artisan Center. The Jam will start at 6:30 p.m. and end at 9 p.m. Bring your instrument and join the circle! Don't play? That's okay! Grab a drink and some dinner off the special BBQ menu and enjoy the music.
Friday, October 4th, The Crooked Road Youth Music Concert will be presented from 6:30 p.m. to 9:30 p.m. The Loose Strings Band will hit the stage at 6:30 p.m. followed by Tyler Hughes and then Kitty Amaral & Friends closing out the evening. "This concert highlights some of the outstanding musical talent of the region's youth," said Jonathan Romeo, Program Manager for The Crooked Road's Traditional Music Education Program. "Each of these artists is outstanding in their field, and showcasing them together is sure to create an exciting performance!"
The Crooked Road Music Festival will continue on Saturday, October 5th from 12 p.m. to 7 p.m. There will be two stages, an outdoor stage covered with a tent and then an indoor stage. The indoor stage will feature various artists and a songwriters workshop from 12 p.m. to 5 p.m. The outdoor stage will feature artists from 12:30 p.m. until 7 p.m.
A few of the artists that will take stage on Saturday at Heartwood are:
Fiddler Betse Ellis brings an edgy fire to every note she bows, strums, sings or shouts. Part old-time celebrant and part contemporary songwriter, Betse is committed to purveying the breadth of possibilities within the folk format. She blends traditional source material with her own original works and presents a diverse sound that refuses to be labeled concretely. Citing influences from John Hartford to Joe Strummer, she traverses musical realms and pushes the boundaries of how folk music can be understood and imagined in the modern age. Betse will play on the indoor stage from 1:00pm-2:00pm.
Frank Solivan and Dirty Kitchen stir the pot with a recipe that offers a smorgasbord of musical sounds, combining multiple layers of razor sharp instrumental expertise, stellar songwriting, and solid lead and harmony vocals with years of confident experience. They have quickly gained a reputation as a dynamic group exhibiting the perfect blend of serious skill, heartfelt passion and an enthusiastic live show. Frank Solivan and Dirty Kitchen will play on the outdoor stage from 2:30pm-4:00pm.
Rebecca Frazier achieved notoriety in the bluegrass world as the first woman ever to appear on the cover of Flatpicking Guitar Magazine. But it is her vocal prowess and song writing chops that make her one of the most exciting new artists to emerge on the national bluegrass stage. When We Fall is her long awaited solo debut and it is already garnering praise from bluegrass fans and critics in the know. Rebecca Frazier will play from 4:30pm-5:30pm on the outdoor stage.
At the 17-year mark, Blue Highway is indisputably one of the most esteemed and influential groups in contemporary bluegrass. The band's nine exceptional albums and compelling live performances give proof to the stellar reviews, Grammy nominations, and numerous awards earned by the band since it first took the stage on December 31, 1994, with the same musicians that comprise Blue Highway today. With ten highly-acclaimed albums to its credit, Blue Highway has garnered two Grammy nominations, a Dove Award, topped the Bluegrass Unlimited radio charts, and won numerous International Bluegrass Music Association awards. Refusing to coast on past glories, Blue Highway continues to push its music to new levels of accomplishment. Artfully balanced between tradition and innovation, it remains in the forefront of contemporary bluegrass music. As headliner for The Crooked Road Music Festival, Blue Highway will play from 5:30pm-7:00pm on the outdoor stage.
Sunday, October 6th, the Sunday Gospel Showcase will be from 10 a.m. to 2 p.m. with Bill and Maggie Anderson performing. Bill and Maggie bring to the stage a traditional music duet with guitar and dobro – story songs, bluegrass, gospel, and recently written music in the acoustic tradition. Their show is spiced with humor and audience appeal. There will be a Sunday brunch offered but it is not included in the ticket price and will be sold at an additional cost at Heartwood.
*All events will be held at Heartwood Artisan Center, located at One Heartwood Circle, Abingdon, VA 24210.
For more information on the performers, the full schedule and to purchase tickets: visit http://www.abingdon-crookedroadmusicfest.com/ or call the Abingdon Convention and Visitors Bureau at 1-800-435-3440.