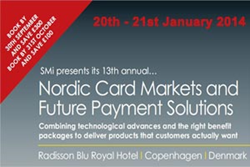 London (PRWEB UK) 24 September 2013
The card and payments solutions market is at an important tipping point. Technological innovation has yet to be translated into concrete commercial opportunities by card issuers. In the Nordic region there is little activity in contactless payments and mobile solutions have yet to settle on a technology and delivery method. The payments market as a whole is in flux and is being disrupted by innovation from new payment entrants.
For contactless the biggest obstacle to take up across the region has been the adoption of NFC terminals and who should pay for them. In addition, in an economically challenging period resistance from smaller merchants poses a problem. Mobile could be said to be supporting a cashless society but where's the benefit? For merchants it's quicker transaction times but how much more cashless does there need to be? What's the benefit at all of mobile or contactless for smaller merchants?
Nordic Card Markets and Future Payments Solutions 2014 will examine how the various players in the industry will have to overcome merchant rejection and deal with consumer apathy. With case study example the conference will set out how to apply the right technological solutions and the right benefit proposition to both groups.
Benefits of Attending:
Delegates to the conference will gain a comprehensive understanding of market and technology developments for the card services and payment solutions sector in the Nordic region by hearing from experienced product, strategy, and innovation leaders giving presentations in the following 6 sections of the event:

Market drivers: Putting the consumer at the heart of card services strategy
Market drivers: Delivering the right technology and looking ahead to new regulation
Future payment solutions strategy: Choosing your path to m-payments
Consumer insight and research: How will customers want to pay in the cashless society?
International branding and m-payments product development case studies
How Big Data and predictive analytics can help mature the payments market
Key speakers include:

Bo Tolstrup Christensen, Chief Consultant, Danske Bank Group
Frederik Sauter, General Manager Nordics, American Express
Kasimir Hirn, Vice President, Head of Cards, OP-Pohjola Group
Tor Jacobsen, Chief Executive Officer, TSM Nordic
Jan Staal Rasmussen, First Vice President, Nykredit
Jan-Olof Brunila, Deputy Director Group Cards, Swedbank
Susan Kaae, Card and Payment Solution Manager, Ekspres Bank
Mikkel Freltoft Krogsholm, Head of Danish Payments Lab, CFIR,
Niklas Arvidsson, Associate Professor, Royal Institure of Technology
Axel Beune, Senior Product and Innovation Manager, ABN AMRO
Michael Gronager, Chief Operating Officer, Payward Inc.
Michel Drupsteen, Senior Business Consultant, ING
Michiel Van Doeveren, Senior Policy Advisor, Dutch Central Bank
For more information about the programme and speakers visit the website.
Alternatively contact Mohammed Malick on +44 (0) 20 7827 6166 or email mmalick(at)smi-online(dot)co(dot)uk