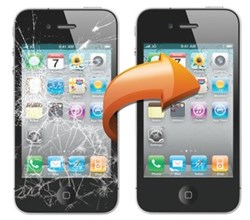 think twice before selling a damaged iPhone as it is often more economical to get repaired first
London, Birmingham, Leeds, Glasgow, Sheffield, Bradford, Edinburgh, Liverpool, Manchester (PRWEB UK) 25 September 2013
It's a pleasure to recycle and get paid for it, which is why many people like to get cash for their old iPhones through one of a very large number of websites that buy them and then re-sell them, or at least parts or materials from them. The trouble is the phone needs to be in very good condition to get the full price offered. This inevitably means a good proportion of iPhones will be offered at a significantly lower price due to some kind of damage, not least scratching and other cosmetic damage.
Mobile phone recycling companies pay more for fully functioning iPhones than they do for damaged or non-functioning iPhone's. But does it make financial sense to repair the device before selling it? Office Manager Hellen Grasso at iPhone Repair Workshop confirms that "it does seem that repairing your device is worth it. If you've got a broken screen on your iPhone 4, a well known mobile recycling company which I won't name will pay you £19.20 for it whereas they will pay you £96 for a fully functioning iPhone 4. With the cost of a screen repair at £50 your repaired iPhone will net you an additional £26.80. It is a similar story with other recycling companies too". In general, whether the damage is major or minor recycling companies simply pay out a low flat rate, but will pay significantly more for fully functional device.
Online discussion boards are full of examples of the shoddy practices used by certain companies in this market. Ryan Newman, Managing Director of iPhone Repair Workshop, says "my advice would be to think twice before selling a damaged iPhone as it is often more economical to get it repaired first. Another important tip would be to take lots of pictures of your iPhone before sending it to a recycling company. Also find out if the company will charge you to get your iPhone returned to you if don't like the price their offering. Make sure your iPhone is not password protected as you will receive less money if it is. Finally, if a company is offering twice what everyone else is, be very suspicious".
The iPhone Repair Workshop looks after the interest of consumers and provide a professional iPhone repair service with clearly published prices on their website. To find out more about the iPhone Repair Workshop visit http://www.iphonerepairworkshop.co.uk/ or call 0207 100 1212. iPhone Repair Workshop will match any iPhone repair price in the City area of London. The competing retailer must not be a home business, and must have a retail premises in the City of London. iPad Repair is part of the Hello Techy family of tech repair businesses.