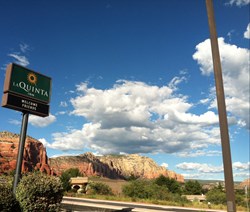 "MilitaryOneClick does an excellent job with helping La Quinta Inns & Suites reach and build unique relationships with military spouses around the country." - Derek Blake
(PRWEB) September 24, 2013
MilitaryOneClick and La Quinta Inns & Suites are teaming up to help military families on the move. Moving and traveling are two very common situations that military families face, with most military families moving every two to three years. The two companies have partnered with military spouse bloggers in order to increase awareness of the one-of-a-kind La Quinta Inns & Suites Military Rewards Program.
MilitaryOneClick will feature military bloggers who use the Military Rewards Program in different ways. The benefits of using La Quinta Inns & Suites for Permanent Change of Station (PCS) moves, adventures in Disneyland, post-deployment vacations, stay-cations, and much more will be presented to the military family on the move through MilitaryOneClick's blog and social media websites.
Navy spouse Amy Meehan is kicking off the series with Amy's Adventures, a blog and social media experience chronicling her family's cross country PCS from Coronado, CA to Virginia. The Meehans are staying in La Quinta Inns & Suites across the country, utilizing the Military Rewards Program, and sharing with the military community all the amazing locations and benefits the hotel chain offers. "MilitaryOneClick does an excellent job with helping La Quinta Inns & Suites reach and build unique relationships with military spouses around the country," according to Derek Blake, Vice President, Marketing and Military Programs, La Quinta Inns & Suites.
La Quinta Inns & Suites offer a 12-percent discount off the Best Available Rate at the more than 800 La Quinta Inns & Suites locations across the country. This discount is available for those who present a valid, government-issued military ID card at check-in. To enroll in the La Quinta Returns Military Rewards program, please visit: http://www.LQ.com/military.
Military families can also they can join on the La Quinta Facebook page on the Military Rewards tab earning an additional 300 points. https://www.facebook.com/laquinta
La Quinta Returns Military Rewards™ is built to help military families with every part of military life from PCS'ing across country to much needed R & R. La Quinta's interactive map function allows military families to plan out their entire trip while knowing that their four-legged family member can also travel with them and stay for free. http://www.lq.com/lq/reservations/index.jsp
MilitaryOneClick is a content marketing platform creating brand influence throughout the entire military community. We connect your company directly with our community through our News You Can Use, numerous social media platforms, military bloggers, events, e-newsletter and boots on the ground efforts. "It's our Business to Make Yours Personal." - Jennifer G. Pilcher, Founder, CEO and proud military spouse, MilitaryOneClick.com
Please visit:
http://militaryoneclick.com/