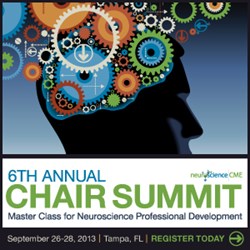 Bethesda, Maryland (PRWEB) September 24, 2013
CME Outfitters (CMEO) is proud to announce the winner of the 6th Annual Chair Summit Future Leader Award is Nithin, Krishna, MD. Krishna is scheduled to present his winning abstract on Variation in Succinic Semialdehyde (ALDH5A1) Gene Is Associated With Eye Tracking and Early Visual Processing Deficits in Schizophrenia this Friday at 12:30pm ET at the 6th Annual Chair Summit in Tampa, Florida. Earlier this year, CME Outfitters (CMEO) invited medical residents nationwide to submit a self-authored clinical abstract to be presented at the 6th Annual Chair Summit.
"I am honored to have the opportunity to present my clinical research findings in front of the nations leaders in psychiatry and neurology," said Krisha, "My presentation will focus on how a functional polymorphism of a novel schizophrenic risk gene, ALDH5A1, affects early visual and motion processing function. I hope that my research findings will ignite a dialogue among the learners in the room, and leave the clinicians with new knowledge that they can apply to daily clinical practice."
Krishna currently works as a fellow to Professor Gunvant Thaker at the Maryland Psychiatric Research Center (MPRC) in the Schizophrenic genetics program – one of the top few schizophrenia research centers in the world. While at MPRC, Krishna has contributed to cutting-edge research that has clarified the role of specific genetic factors mediating some of the complexities seen in schizophrenia. Dr. Krishna's research interest is in the search for genes that cause schizophrenia and psychotic spectrum disorders.
The remaining finalists will also present their research at Chair Summit, during a 60 minute Future Leader Finalists Showcase on day 3 of the conference. Below is a list of Future Leader finalists and presentation topics:
Laura Bevilacqua, MD, PhD
New York University
"HTR2B in the Genetics of Impulsivity and Addiction"
Alexis N. Cohen-Oram, MD
University of South Florida
Morsani College of Medicine
"A Case Report of a Patient with Delayed Onset Gait Ignition Failure After Anoxic Encephalopathy That Transiently Responded to Ropinorole"
Patricia J. Dickmann, MD
University of Minnesota
"Evaluation of Sleep Medicine Education in U.S. Psychiatry Residency Programs"
Demian F. Obregon, MD
University of South Florida
Morsani College of Medicine
"Potential Autoepitope Within the Extracellular Region of Contact in Associated Protein-like 2 in Mice"
Sandarsh Surya, MBBS
Medical College of Georgia
"Stimulus Variable As Risk Factors in Spinal Fracture with Electroconvulsive Therapy: Clues From an Animal Model"
About CME Outfitters, LLC
CME Outfitters (CMEO) is a leading accredited provider in continuing medical education. CMEO develops and distributes live, recorded and web-based, outcomes- and evidence-based educational activities to thousands of clinicians each year and offers expert accreditation and outcome services for non-accredited organizations. CME Outfitters focuses on delivering education to specialty audiences, with strong expertise in neuroscience, inflammatory, infectious, and autoimmune diseases, and cardiovascular disease. For a complete list of certified activities and more information, visit http://www.cmeoutfitters.com or call 877.CME.PROS (877.263.7767).
"CME Outfitters … Improving Clinical Behavior … One Change at a Time"
###