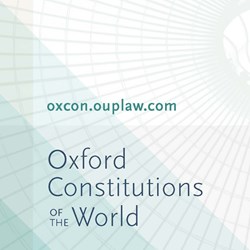 'Oxford Constitutions of the World provides any constitutional law scholar, academic, or researcher with the answer to their question...' - Tony Lim, Oxford University Press
New York, NY (PRWEB) September 24, 2013
Oxford University Press is pleased to announce the launch of Oxford Constitutions of the World (OCW), an online resource containing regularly updated, fully-translated English-language versions of all the world's constitutions. The constitutions are accompanied by individual commentaries and supplementary materials, including foundation documents, historical constitutions, and amendment Acts/laws.
"Oxford Constitutions of the World provides any constitutional law scholar, academic, or researcher with the answer to their question: whether they are looking for the exact text of a particular article of the constitution, looking to compare similar provisions across the constitutions of multiple countries or jurisdictions, or seeking an authoritative commentary to every constitution in the world."
– Tony Lim, Editor, Law, Oxford University Press
Key features of Oxford Constitutions of the World :

Access to national & sub‐national constitutions, including special sovereignties, autonomous regions & disputed or irredentist jurisdictions
Commentaries and supplementary materials accompanying each constitution, including foundation documents, historical constitutions, amendment Acts and laws, and a collection of scholarly monographs
A collection of key comparative constitutional law monographs
Updated search functionality: find articles by jurisdiction, keyword, subject, and more
Keep up-to-date with developments in constitutional law, with updates to all materials throughout the year
Improved interface and functionality
Personalization options to save and share searches and frequently used content
Subscribers to the OCW also benefit from access to the Oxford Law Citator, one of the most powerful research navigation tools available for legal research.
The launch of Oxford Constitutions of the World brings the site in line with the rest of Oxford University Press' recently launched and migrated Law products, fulfilling our mission to bring users an improved user experience whilst continuing to deliver the best quality content in an easy-to-use format.
Andy Redman, Editorial Director, Oxford University Press, says: "We're particularly excited that users will now find key information on citations and links resident in the main screens, making research simple, contextual, and offering direct access to key materials."
More about the Oxford Law Citator:

Allows users to find new materials and extend research capabilities with direct links between all content
Every unique Oxford Law Citator record provides citation details, links to the content, lists of other items that reference or are referenced by that content, and more
Full access to the Oxford Law Citator is provided with any subscription to an Oxford Law Online product