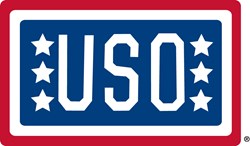 Over the past 12 years, our military families have faced tremendous challenges... partnering with the USO is a way for me to give back to our troops. - Trevor Romain
Arlington, VA (PRWEB) September 24, 2013
Going back to school can be a difficult transition for any child, but even more so for our military children. That's why this fall, USO tour veteran, children's author and entertainer Trevor Romain is once again partnering with the USO to take his inspirational messages and tools for coping with difficult situations on the road to more than a dozen military installations. Romain's popular With You All The Way! USO tour gives military children a safe environment where they can explore their feelings, laugh, cry and talk about their concerns openly with their peers – among some of the topics up for discussion are bullying, deployment, reintegration and when a parent returns home with invisible and visible wounds. The tour will cross the continental U.S. and Hawaii with stops in major military hubs like Fort Bliss, TX and ending mid-December at Fort Gordon in Georgia.
"Over the past 12 years, our military families have faced tremendous challenges that most of us are not aware of. Partnering with the USO is a way for me to give back to our troops who are sacrificing so much," said Romain. "Helping their children is a way for me to give back to them."
With You All the Way! presentations are sponsored by the USO in partnership with the nonprofit Comfort Crew for Military Kids (CCMK) whose mission is to ensure that every military child receives the best tools, strategies, and technology to overcome adversity and have a positive impact on themselves, their families, and our country.
Romain opens each session with kid-friendly jokes and video clips from some of his popular DVDs like "With You All the Way! Dealing with Deployment", "Bullies Are A Pain In the Brain" and "Facing Fear Without Freaking Out," before he segues into the tough topics our military children are coping with. The forums are lead by Romain and tailored in length and content to have the highest impact and reach on children between the ages of six to 18, which encourages participants to write and draw as a creative way of identifying and coping with their feelings. At the end of each presentation children, educators and parents can ask questions and share their own personal stories.
With almost one out of every 10 students dropping out or changing schools because of repeated bullying, Romain devotes much of his time and energy to tackling this issue. Military kids are especially susceptible to the effects of bullying and developing bullying tendencies because of added stressors like deployment and relocation. As part of his presentations and work with military children Romain helps children and their parents recognize the signs of bullying and how to address it- whether the child is the victim or the bully.
"Trevor Romain and the With You All the Way! tour tackles real issues facing our nation's military children," said Ed Shock, Vice President USO Warrior and Family Care. "These families have endured multiple deployments, and are now struggling in this post-deployment era, with reintegration and building resiliency. Children often don't know how to communicate with an adult, especially about their deployment, and Trevor helps them open up."
In his six years working with the USO, Romain has visited more than 100,000 children in 13 countries throughout Europe, the Pacific and Southwest Asia. In a recent survey conducted among thousands of active duty military and their family members from around the world, Trevor Romain and the With You All the Way! program ranked as one of the highest valued programs supporting our nation's military families. The survey, entitled TellUSO, provides the USO with valuable data about what troops and their families really want and need from the USO and how well we are delivering it.
Upcoming With You All the Way! tour dates include:
9/25 Edwards Air Force Base, CA
9/30-10/4 Joint Base Lewis McCord, WA
10/14-10/18 Camp Lejeune, NC
10/21-10/24 Fort Knox, KY
10/28-11/1 Naval Air Station, FL
11/11-11/15 Travis and Beale Air Force Bases, CA
11/18-11/21 Boston, MA
12/2- 12/6 Fort Bliss, TX
12/9-12/13 Joint Base Pearl Harbor-Hickam, HI
12/16-12/20 Fort Gordon, GA
For more information about bullying and the With You All the Way! program visit http://www.uso.org or contact Trevor Romain and the Comfort Crew for Military Kids at http://www.comfortcrew.org.
About the USO
The USO lifts the spirits of America's troops and their families millions of times each year at hundreds of places worldwide. We provide a touch of home through centers at airports and military bases in the U.S. and abroad, top quality entertainment and innovative programs and services. We also provide critical support to those who need us most, including forward-deployed troops, military families, wounded warriors and families of the fallen. The USO is a private, non-profit organization, not a government agency. Our programs and services are made possible by the American people, support of our corporate partners and the dedication of our volunteers and staff.
In addition to individual donors and corporate sponsors, the USO is supported by President's Circle Partners: American Airlines, AT&T, Clear Channel, The Coca-Cola Company, Grand Canyon University, jcpenney, Jeep, Kangaroo Express, Kroger, Lowe's, Northrop Grumman Corporation, Procter & Gamble and TriWest Healthcare Alliance and Worldwide Strategic Partners: BAE Systems, The Boeing Company, Lockheed Martin, Microsoft Corporation and TKS Telepost Kabel-Service Kaiserslautern GmbH & Co. KG. We are also supported through the United Way and Combined Federal Campaign (CFC-11381). To join us in this patriotic mission, and to learn more about the USO, please visit uso.org.
About The Comfort Crew for Military Kids
The Comfort Crew for Military Kids is a non-profit organization that supports thousands of military kids each year through programs and advocacy events designed to strengthen their social and emotional resilience. Founded in 2007, The Comfort Crew creates a world where kids feel supported while managing the challenges of today's military life including deployment, reintegration, moving, visible and invisible injuries and grief.
In partnership with the USO (United Service Organizations), co-founder Trevor Romain and The Comfort Crew work directly with military children on and off bases all over the world. Military kids and their families are offered a wide variety of comfort kits and educational resources that are customized to meet their specific needs and let them know – we are With You All the Way! To learn more about The Comfort Crew for Military Kids, please visit http://www.comfortcrew.org.