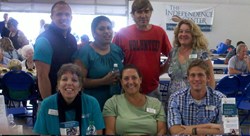 It was a tremendous success in which large agencies and small communities come together for a common goal.
Colorado Springs, CO (PRWEB) September 25, 2013
The Independence Center and Community Outreach Center hosted the 3rd annual Health and Education Fair in Calhan this past weekend. The fair boasted 300 visitors from the community and 46 vendors from a variety of services that strive to serve the community's health and wellness needs.
"Overall the event went very well," said Liz Hunter-Ball, Community Developer for The Independence Center. "It was great to see organizations sharing information and resources with the community."
With this resource event, the Community Outreach Center worked within the community to highlight the services available to help individuals achieve their best health and wellness. Residents were able to walk around the fair and ask vendors questions.
"Sometimes people need a more personal approach," said Hunter-Ball. "Being able to talk to someone one-on-one rather than over the phone is a huge advantage."
With the diverse group of vendors that participated this year, community members had the opportunity to educate themselves on a variety of health and wellness subjects. Many residents would not otherwise have access to some of the resources the fair provided.
"I am so glad (the IC) invited me to help," One volunteer for the fair said. "I learned so much and I never dreamed all these agencies existed."
The event was sponsored by 32 different organizations and individuals from Colorado Springs, Calhan and other surrounding areas. Some of the vendors at the event included U.S. Mobility Inc., Toni & Guy Hairdressing Academy, Inside/Out Youth Services and Peak Vista.
"It was a tremendous success in which large agencies and small communities come together for a common goal," said Patty Jolly, Education and Health Fair Co-Chair.
For more information about The Independence Center, visit our website at http://www.theindependencecenter.org.
About the Independence Center:
The IC was founded to assist people with disabilities to make changes in their lives that lead to independence in our community. We empower people with disabilities to live independently in the community through services such as home health, peer support, benefits counseling and access to assistive technology. We are a vigorous participant in local efforts to remove barriers for people with disabilities because we believe that people with disabilities should have the same civil rights, options and control over choices in their lives as people without disabilities. We provide skills training to empower people with disabilities to be well informed advocates and active citizens; to change laws, legislation, systems and attitudes that affect their independence.