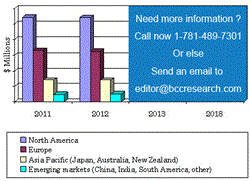 Wellesley, MA (PRWEB) September 30, 2013
According to a new technical market research report, Medicines for Smoking Cessation: Global Markets from BCC Research (http://www.bccresearch.com), the global market for smoking cessation medicines was valued at $2.11 billion in 2012 and is expected to reach $2.12 billion by 2013. BCC Research projects the market to grow to $2.5 billion by 2018, and register a five-year compound annual growth rate (CAGR) of 3.4% from 2013 to 2018.
Pharmaceutical regulatory agencies began approving smoking cessation medicines in developed markets of North America and Europe in the 1980s. Since then, the smoking cessation medicine market has grown into a billion dollar industry. Undeniably, the demand for smoking cessation medicines has grown substantially in the developed markets of North America and Europe since 2000. At present, there are seven first-line medicines available in developed countries as smoking cessation medications.
The growing consumption of cigarette in developing and poor countries is increasing the health hazards and mortality rate associated with smoking. Consequently, these conditions are creating a demand for smoking cessation medicines in developing countries and emerging markets. Advanced research and development (R&D) directed towards smoking cessation medicines along with ongoing and strong initiatives from various public health departments to eradicate smoking are driving the growth of this market.
Reducing the prevalence of smoking is a national agenda of many nations, including emerging markets. This development provides an opportunity to manufacturers and marketers of smoking cessation medicines to expand organically. This study will help in understanding the length and breadth of the market as well as initiate strategies for effective capture of market share.
This report from BCC Research provides a comprehensive overview of the global market for medicines used to quit smoking and cope with nicotine withdrawal symptoms that are developed after a long-term addiction to tobacco. It analyzes global market trends, with data from 2011 and 2012, estimates for 2013, and projections of compound annual growth rates (CAGRs) through 2018. It also discusses the history and current state of smoking cessation methods, worldwide trends in smoking, and mechanisms of actions such as nicotine replacement therapy, nicotine receptor partial agonist, and antidepressants. In addition, the study provides a list of pipeline products and focuses on promising pipeline candidates, current patents, new patent applications, and company profiles of major players in the industry.
The information and analysis presented in this BCC Research report are based on first-hand information from primary executives, product managers, and clinical specialists; background information has been obtained from various government, business, medical journal, and trade magazines. Statistical data has been sourced from organizations such as the World Health Organization (WHO), the Organization for Economic Co-operation and Development (OECD), Centers for Disease Control (CDC), The Tobacco Atlas, and from others working in public health and tobacco control.
This report is intended for executives of pharmaceutical companies who are currently marketing smoking cessation aids; executives of companies that provide third-party manufacturing and development facilities for smoking cessation medications; manufacturers of gum base, resins, alkaloids, and other raw materials for the manufacture of nicotine replacement therapies; developers of novel nicotine delivery systems; and tobacco companies that intend to enter the tobacco transformation market. This study will also benefit entrepreneurs, management consultants, and merger and acquisition (M&A) consultants; financial institutions, venture capitalists, and angel investors; manufacturers and exporters of alternate smoking cessation aids; and government agencies, public health departments, and organizations working in tobacco prevention and control.