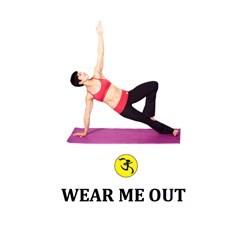 Wear Me Out is not just a clothing brand, it's a lifestyle that we are thrilled to share.
Los Angeles, CA (PRWEB) September 25, 2013
WEAR ME OUT has inked an agreement with The Singer Group in a move toward a significant expansion of its fitness and casual wear line in the coming year. Under this pivotal contract with The Singer Group, WEAR ME OUT will be distributed through Nexcom Naval Exchanges, which is best know for placing Macy's brands onto military exchange floors. WEAR ME OUT will debut its Spring 2014 collection as the first "yoga" line inside some ten locations of first and second tier ranked military exchanges across the nation.
Additionally, WEAR ME OUT is set to benefit from the widespread opening of new Cardio Barre studios where the line follows a strategic en suite placement within these studios' boutiques. The family-owned and operated brand, which launched as a retail line in 2008, has since posted steady annual sales growth to prompt its entry into wholesale distribution by 2011 for a markedly increased presence across the US market. Wear Me Out's vertical expansion and national distribution is a vital next step for the continued brand's growth.
ABOUT WEAR ME OUT
Originally created for retail, Wear Me Out launched their first collection in 2008, inspired by kickboxing workout sensation, Tae Bo. They live the words "Sweat to live, Live to Play" and create products for healthy, active lifestyles. All Wear Me Out products are available online at http://www.wearmeoutclothing.com and select nationwide boutiques. Wear Me Out is also available at Cardio Barre gyms and select pilates and yoga studios across the nation and retails from $26-$68.