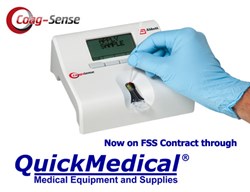 Issaquah, WA (PRWEB) September 26, 2013
QuickMedical is now an authorized government distributor of the Coag-Sense PT/INR Monitoring System. The Coag-Sense system is the very first point-of-care prothrombin time monitoring system to offer direct clot detection technology. By miniaturizing a direct mechanical means of detecting clot formation, the Coag-Sense system offers unequaled performance and avoids the most common source of PT/INR testing errors. Now this state-of-the-art technology is available on FSS contract through QuickMedical for cardiology clinics, general practitioners, and labs seeking an affordable PT/INR test.
More than 2 million Americans start to take warfarin or similar blood thinning medications for cardiovascular disease every year. Many of these Americans are veterans using government healthcare resources. The unique Coag-Sense system, manufactured by Coagusense, Inc., uses direct clot detection and delivers superb repeatability to assist these patients. By delivering these patients' information immediately inside the clinic, patient care improves, and clinics report a dramatic reduction in testing costs.
About CoaguSense, Inc.: CoaguSense, Inc. is the manufacturer of the first PT/INR system to directly detect clot formation. The Coag-Sense system offers clinicians not only the performance they require but also the reliability they demand.
About QuickMedical: For 20 years QuickMedical has been a leader in the distribution and sale of medical supplies and equipment. With great pricing, same day shipping and a best price guarantee, QuickMedical has the professional medical equipment used by medical and healthcare professionals in their facilities everyday.