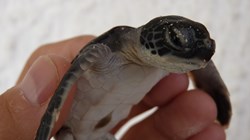 Cancun, Quintana Roo (PRWEB) September 25, 2013
The state of Quintana Roo is famous for its beautiful natural landscapes, its abundant flora and indigenous fauna, among which there are several species of turtles in danger of extinction. In 2009, Sunset World Resorts & Vacation Experiences, on the initiative of its Safety and Prevention Department, joined the ecological protection program for this species and since then has been protecting hundreds of turtles that come to lay their eggs on its beaches.
With the support of Petra Montoya, biologist and Municipal Ecology Coordinator, hawksbill, green and loggerhead sea turtles are protected and released during nesting season, which begins in April and ends in September. During this program personnel and volunteers from the ecology department are on constant watch to prevent people from wandering into the nesting areas.
Their main predators are seagulls, iguanas and humans, so they are protected by pens made of wire mesh to stop predators from entering and stop the turtles from accidentally escaping, until they are released at night time.
So far the following numbers of turtles have been released on the beaches of the Sunset Royal Beach Resort:
2009-2010 season: 11,136 turtles
2011-2012 season: 9,098 turtles
2013 to date: 2,432 turtles
As part of Sunset World's commitment to environmental care and protection the hotel's entertainment staff invites members and guests to take part in this activity and educates them regarding the positive impact these actions have around the world.
About Sunset Royal Beach Resort
Resting on the shores of a beautiful white sand beach in Mexico's Caribbean with charming views of the turquoise blue sea, Sunset Royal Beach Resort offers fine entertainment and activities for the whole family, all throughout the day and well into the evening. Sunset Royal's privileged location provides convenient access to the best in travel entertainment, nightclubs, restaurants, as well as shopping.