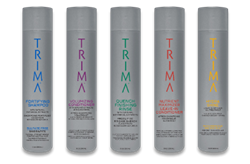 TRIMA's formula is carefully blended with botanical extracts and oils that have proven to help protect and nourish hair at a structural level. - Frank DeCarlo, Jr. Vice President of Production and Research
Boca Raton, FL (PRWEB) September 25, 2013
Hair Club (http://www.hairclub.com/why-hairclub.php), the industry leader in hair restoration, today launches a new formula and design for TRIMA, a proprietary line of high-quality hair treatment products and styling aids for repairing and restoring fine, stressed, or thin hair.
Originally developed in 2004, TRIMA was engineered to complement Hair Club's non-surgical hair restoration solution. The new and improved TRIMA line incorporates a blend of certified organic ingredients, botanical extracts, silk amino acids, and Keratin.
"TRIMA's formula is carefully blended with botanical extracts and oils that have proven to help protect and nourish hair at a structural level," said Frank DeCarlo Jr., Hair Club's Vice President of Production and Research. "Taking into consideration new advances in hair care and the benefits of naturally-derived oils, Hair Club is always looking to introduce new products and services as a way to help its clients nurture their hair."
Consisting of eight products, the TRIMA line is designed to offset hair damage, which is caused by everyday styling, exposure to chlorinated or hard water and high levels of UV rays, and hair processes, like chemical treatments, hair coloring, tight braiding or weaving. Hair Club's TRIMA product line includes:

TRIMA Sulfate-Free Fortifying Shampoo: cleanses, rejuvenates and strengthens hair, leaving hair looking and feeling healthy, revitalized and fuller.
TRIMA Volumizing Conditioner: nourishes, adds volume, and repairs hair, resulting in shiny and soft hair, while also protecting it against damaging chemicals and the elements.
TRIMA Quench Finishing Rinse: replenishes, fortifies and hydrates hair with natural botanical extracts.
TRIMA Nutrient Maximizer Leave-in Conditioner: rejuvenates the cuticle and infuses deep moisture, minimizing chemical buildup and damage.
The TRIMA line also offers four styling products formulated with Argan oil, Acai oil and Aloe Vera, which helps to further nurture and protect the hair. TRIMA® Hydra Shine is a leave-in dry hair oil treatment to moisturize hair after the shower and before styling. For hair that needs protection from UV rays, TRIMA® Ice is a styling glaze with built-in sunscreen. TRIMA® Kiss, a styling foam and TRIMA® Flash, a finishing spray, complete the line-up.
To update the look and feel of the TRIMA line, the new packaging design features sleek silver cylindrical bottles, designed for aesthetics as well as ease of use. Each product is tastefully accented by hints of vibrant colors.
"We designed this packaging to appeal to Hair Club's style-driven clientele," said Christopher DiBiase, Hair Club's Senior Graphic Designer. "The new branding was carefully developed to reflect the care and attention that went into the creation of the products formulations and fragrances, in a way that represents our fashion-forward generation of clients."
For more information on Hair Club, visit hairclub.com.
About Hair Club®:
Founded in 1976 by Sy Sperling, Hair Club® is the leader in hair restoration and the largest company in the industry offering all proven hair loss solutions. Hair Club® has granted more than 500,000 men, women, and children an experience that truly changed their lives. Today, Hair Club has 100 locations throughout the United States, Canada, and Puerto Rico and is a wholly-owned subsidiary of Tokyo-based Aderans Co. Ltd, the world's leading provider of total hair loss solutions. Aderans brands in the U.S. include Bosley®.