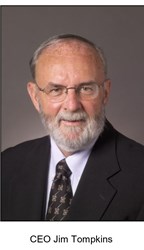 Amazon is not in the grocery business. They are in the technology business, the retail business, and for 51 percent of all Americans, they are in the transportation business.
Raleigh, NC (PRWEB) September 24, 2013
Amazon's online grocery service, AmazonFresh, is gaining ground with customers who want to restock their pantries without leaving home. But Amazon's true focus is building its transportation capacity, according to Jim Tompkins, CEO of Tompkins International, in a new podcast titled "What Business Is Amazon In? The Answer Will Change Your Thinking."
"Amazon is not in the grocery business," says Tompkins. "They are in the technology business, the retail business, and for 51 percent of all Americans, they are in the transportation business."
Tompkins explains that the e-commerce giant is not really expecting AmazonFresh to increase profits. While customers do want grocery delivery, the profit margin is too low. The real competitive advantage lies in its access to customer homes on a regular basis. Amazon is able to use Prime membership and same-day delivery capability to make online grocery work support its true business of delivery and transportation services.
In the podcast, Tompkins explores the top five ways that the giant retailer leverages its grocery business to reach customers with same-day delivery for its thousands of other products. It also reveals how he sees Amazon utilizing the same transportation services to assist business-to-business customers with AmazonSupply.
"Amazon is using grocery to deliver to homes on the average of three nights per week," Tompkins says. "This will not make money. Why is Amazon CEO Jeff Bezos doing this? Because he is also offering AmazonFresh Prime customers 500,000 general merchandise items to be delivered along with their grocery items."
Leaders of companies in retail, consumer goods, distribution, and delivery services will need to understand Amazon's transportation business so they can respond with the right strategies and implement supply chains driven by customer demands.
To learn more about how to develop a counter-attack to Amazon's strategy, watch the new video – Amazon and Walmart: Facing the Titans.
Click here to listen to the podcast or read the text transcript.
About Tompkins International
Tompkins International transforms supply chains to create value for all organizations. For more than 35 years, Tompkins has provided end-to-end solutions on a global scale, helping clients align business and supply chain strategies through operations planning, design and implementation. The company delivers leading-edge business and supply chain solutions by optimizing the Mega Processes of PLAN-BUY-MAKE-MOVE-STORE-SELL. Tompkins supports clients in achieving profitable growth in all areas of global supply chain and market growth strategy, organization, operations, process improvement, technology implementation, material handling integration, and benchmarking and best practices. Headquartered in Raleigh, NC, USA, Tompkins has offices throughout North America and in Europe and Asia. For more information, visit http://www.tompkinsinc.com.
Contact:
Myra Schwartz
mschwartz(at)tompkinsinc(dot)com
Twitter: @jimtompkins
Creating Supply Chain Excellence Blog: http://www.tompkinsinc.com/category/blog/
Global Supply Chain Podcast: http://www.tompkinsinc.com/category/podcast/