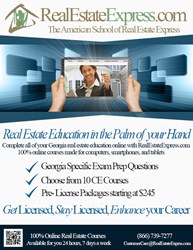 Five Georgia Realtors won free continuing education classes for life sponsored by RealEstateExpress.com.
(PRWEB) September 25, 2013
Laura Eberle, National Sales Director, and Tom Davidson, Vice President, of the American School of Real Estate Express LLC (RealEstateExpress.com), based in St Louis, Missouri, sponsored and attended the Georgia Association of Realtor Conference and Expo on September 18 - 20, 2013, at the Sandestin Golf and Beach Resort in Destin, Florida.
Each year, the Convention & Trade Expo brings Realtors from around the state together to discuss and vote on key issues that shape their profession and state association. In addition to committee meetings, members have the option to attend a variety of educational sessions with topics ranging from becoming a paperless Realtor to technology advances such as using smartphones and video marketing. Sessions were presented by well-known real estate experts such as Barbara Curtiss, Joi Bostic and Juanita McDowell.
This year's Keynote was given by Vicki Hitzges on reducing stress. Realtors "Caught the Wave" at the Surf's Up party; networked during the Tennis Tournament; and turned out for the annual Bingo! Game.
Five Georgia Realtors won free continuing education classes for life sponsored by RealEstateExpress.com: Kay Riddle Petty of Bob Parks Realty; Michael Blackburn of Yesway Properties; Janie Pugh of Golden Key Realty; Ann Gregory of Re/Max Warner Robins and Kathy Wilbanks of AGM Real Estate.
Convention sponsors included: RealEstateExpress.com, Century 21, Georgia MLS and A.C. White Relocations. Over 40 vendors and sponsors shared their expertise with Realtors during the multi-day Trade Expo. Select vendors, including RealEstateExpress.com, presented educational Info Bites in the Expo to share expertise on ways to improve their businesses. Realtors participated in a Grand Opening Cocktail Party, Info Bites education sessions, and Friday Brunch.
About RealEstateExpress.com:
The American School of Real Estate Express is one of the nation's oldest 100% online real estate license schools, established in 1996. Thanks to visionary decisions in a few early adopting states like Missouri and Georgia a few jurisdictions began to write legislation to allow students to take their real estate license training courses online. Today, RealEstateExpress.com is approved to deliver 100% internet-based training and/or exam prep in almost all major states. Our courses have expanded to include; real estate pre licensing, post licensing, broker, and continuing education, as well as Exam Prep systems, versions in Spanish, and appraisal courses.
"America's favorite online real estate school" has now successfully trained over 500,000 real estate students from all over the county via the internet. Real Estate Express is consistently ranked number one in first-time pass rates by boards and commissions, what that means to our students is better, accurate course content, delivered in the method the student prefers, for less money. Students who graduate from the American School of Real Estate Express can take advantage of professional designations that are widely recognized as invaluable marketing tools fully embraced and preferred by consumers.
To contact the RealEstateExpress.com Staff:
Academic Advisers
12977 N. Forty Drive, STE 368
St. Louis, MO 63141