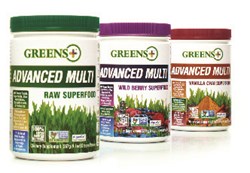 Advanced Multi represents our commitment to new product innovation and a continual development of the Greens Plus brand. - Ryan Deauville, President
Vero Beach, FL (PRWEB) September 26, 2013
Since 1989, Greens Plus has been helping people live healthier, happier lives. After nearly 25 years providing the most nutritious Superfoods on Earth, Greens Plus has improved on its award-winning flagship product, The Original Superfood, and created a complete, raw, 100% whole food multivitamin, multimineral and phytonutrient delivery system called Greens+ Advanced Multi.
Green foods, superfruits, sea vegetables, herbal extracts and probiotic cultures are combined with whole food sources of essential vitamins and minerals, including AlgaeCal Plant Calcium and natural vitamin D3, scientifically-proven to increase bone strength and bone mineral density.
"We are very excited about the benefits consumers will receive from Greens+ Advanced Multi. Since it contains every essential nutrient from 100% whole foods, it is the perfect foundational dietary supplement. Advanced Multi represents our commitment to innovation and a continual development of the Greens Plus brand," said President Ryan Deauville.
Greens+ Advanced Multi is 100% soy, dairy and gluten-free and is manufactured using a patent-pending Infrared Activation technology that preserves heat-sensitive phytonutrients and activates the healing power of superfoods.
Available in 3 delicious flavors: Raw Superfood, Wild Berry Superfood and Vanilla Chai Superfood, Advanced Multi can be purchased at Vitamin Shoppe, Whole Foods Markets, Walgreen's Pharmacies and online at http://www.greensplus.com.
About Greens Plus
Greens Plus has been helping people live healthier, happier lives since 1989. The Original Superfood Company produces 100% natural, non-gmo and certified organic Superfoods, Camu Kaze Energy Shots, and the #1 selling Chocolate Energy Bar in America. For more information, visit http://www.greensplus.com or call Toll-free 1-800-643-1210.