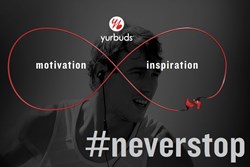 '#neverstop means the possibilities are endless,' said Daniel DeVille, Director of Marketing for yurbuds. 'Through inspiration and motivation, our goal is to continue to help our community push beyond their personal best.'
St. Louis, MO (PRWEB) September 24, 2013
yurbuds®, the ergonomically designed, number one selling sport earphone brand in the U.S. continues its mission of transforming athletes experiences with its new campaign, #neverstop. Featuring messaging around both motivation and inspiration, the #neverstop campaign aims to empower people to push further in every aspect of their life.
As part of the #neverstop platform, yurbuds has just debuted two national television spots, one based on motivation and one on inspiration. The spots visually display yurbuds' mission to give more, work harder and #neverstop.
The motivational aspect of the campaign leverages yurbuds' unique, ergonomic technology that works with an athlete's body, so there is no distraction and nothing standing in the way of going beyond one's personal best. A seamless connection with technology, yurbuds are so comfortable, they become part of an athlete and set the pace for a workout. Targeting the inner competitor in all of us, the motivational platform challenges us to find our limits in order to test them; test them to break through them; and break through them to achieve more than we ever imagined possible.
The inspiration platform of the #neverstop campaign was a result of the unparalleled support runners gave to victims after the Boston Marathon tragedy and cancellation of the New York marathon due to Hurricane Sandy. Since 2012, the running community has raised more than two billion dollars for charities of all types. These everyday heroes who go beyond the charitable finish line have made huge strides in relief efforts.
True to its endurance roots, the company fosters a culture that inspires the team to stay active and drive beyond personal goals. Last spring, the team rallied together to run #BostonStrong through the city of St. Louis to honor and give back to members of the running community. The team ran for a total of 107 miles and donated proceeds from a day of sales to support the Boston One Fund. This fall, yurbuds will raise awareness and donations for charities nationwide.
"#neverstop means the possibilities are endless for body, mind and spirit," said Daniel DeVille, Director of Marketing for yurbuds. "Through inspiration and motivation, our goal is to continue to help our community push beyond their personal best with products, engagements and charitable opportunities."
Visit yurbuds.com/neverstop for more information and see the spots at yurbuds.com/neverstop/motivation and yurbuds.com/neverstop/inspiration.
About yurbuds
yurbuds was founded in 2008 by Seth Burgett, President and CEO, an active triathlete and Richard Daniels, COO, a 24-time marathoner. Burgett and Daniels left their corporate roles and joined forces to improve personal performance. They have been joined by Craig Ceranna, CFO and Managing Director, to realize the company's mission: transform the athlete's experience through personalized service and exceptional audio products that integrate ergonomics and emotive design.
As a company, yurbuds was recently honored by the 2013 International CEA Innovations Design and Engineering Awards for the Focus Limited Edition. yurbuds has also been awarded for its marketing, including a 2011 "Site of the Day" for Awwwards.com and a 2010 GOOD DESIGN AWARD. Forbes also named yurbuds the 9th Most Promising Company in America for 2009.