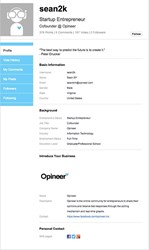 (PRWEB) September 25, 2013
The social media platform Opineer.com, is updating its user page profiles with a new design and interactive features for business owners. Users may now add detailed information about their businesses, blogs, or anything they want to promote.
Co-founder Sean Kim explains the reasoning behind the updates saying, "With our new look on the user profile pages, users will get to know other users and their businesses more easily than before." He also says the new user pages will encourage members to build better networks and increase conversation between entrepreneurs.
Opineer's co-founders say they always envisioned their website as a place for business owners to make valuable personal connections. They believe an entrepreneur who builds a full profile on Opineer and engages with other members is well on the way to doing that. "The new profiles used in conjunction with creating posts, making comments, and following other users will help the profile pages to get more traction," says Kim.
Opineer.com strives to deliver the information needed to start or grow a business. It provides a space for members of the business community to interact and generate public relations opportunities. It also gives a break-out of trending, recent and popular topics.
Through Opineer's unique interface, entrepreneurs can share their experiences and even pose questions regarding start-ups by creating poll-based posts. In turn, poll results will be displayed on a graph in real time to help gauge public response. Users may also share their opinions and engage in in-depth conversations with other entrepreneurs with an intuitive commenting system.
About Opineer:
Opineer is a Virginia-based company specializing in social media dedicated to entrepreneurs. It is also a website which provides business owners with a platform to quickly share opinions, receive feedback, and discuss the latest industry news. It was founded by three Carnegie Mellon University alumni in 2012. To find out more about what Opineer can do for you, visit Opineer.com.