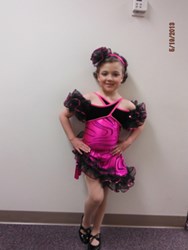 This is our life now. It's our normal since we got the call two years ago.
St. Louis, MO (PRWEB) September 26, 2013
At seven-years-old, Sierra Miller of Quincy is already a beauty queen – Little Miss Adams County Fair, to be exact - a team leader and an artist. Most importantly, she's a survivor.
"She is a very brave little girl and always has been," says Kris Gannon, a Child Life Specialist at St. Louis Children's Hospital, who first met Sierra when she was hospitalized for leukemia two years ago. "Sierra is always happy to help me with other patients. She's very social and just a happy and wonderful little girl."
With her IV pole that she's named Miss Pickles, Sierra moves around the clinic as much as she can between treatments, making art projects with Gannon or chatting with her mom, who is always right by her side.
"This is our life now," says Amanda Liesen-Miller, Sierra's mom, who along with her husband, Toby, also has twin 5-year-old boys, Bryce and Logan. "It's our normal since we got the call two years ago."
Life suddenly changed for the Quincy, Ill., family of five when Sierra was just entering kindergarten and was stung by a wasp, causing her lymph system to flare up. After multiple tests at home and then a trip to St. Louis Children's Hospital, the family finally got the call they'd dreaded on Friday, Oct. 7, 2011. A bone marrow test confirmed Sierra had leukemia.
"I was in shock," she says. "I had 3-year-old twins and now a 5-year-old with cancer."
Sierra was in the hospital for eight days and received intensive chemotherapy at home for the first month after her diagnosis. After another bone marrow test, they learned she was in remission.
For nine months, Sierra, her mom, and sometimes other family members made the five-hour round-trip to St. Louis Children's Hospital every week to visit the cancer clinic for treatments and evaluations. She still comes once a month for appointments that last about four hours each time.
"We had never been to St. Louis Children's Hospital before this happened," Liesen-Miller says. "The staff has been so friendly, and they all work so well with the kids. They really listen and they make sure it is fun, as fun as it can be."
Since being a patient, Sierra has told her mom she'd like to be a Child Life Specialist, like Gannon, so she can help other kids with cancer.
She's already helping raise money for cancer research, by inspiring a team to ride for Pedal the Cause, a bike ride in St. Louis that raises money for cancer research. Sierra is one of the honored "Ride for a Child" pediatric cancer patients highlighted during this year's ride. All the proceeds go to St. Louis Children's Hospital and the Siteman Cancer Center in St. Louis. Last year, Pedal the Cause raised $2 million dollars. Chill, the frozen yogurt chain, has started a Pedal the Cause team in Sierra's honor.
"We love Pedal the Cause and seeing all of those riders," Liesen-Miller says. "It's kind of cool that so many people care about this."