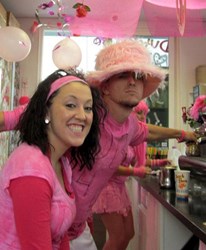 This event is about saving lives!
Kennewick, WA (PRWEB) September 26, 2013
On Tuesday, Oct. 1, in honor of Breast Cancer Awareness Month, Dutch Bros. Coffee locations in Kennewick and Pasco will donate 100% of the day's proceeds to the Tri-Cities Cancer Center.
The Tri-Cities Cancer Center is a community resource for cancer treatment, support, education, and information.
"We are thrilled to partner with Dutch Bros. again this year to bring awareness to a disease that affects so many of our family, friends, neighbors and co-workers," said Foundation Director Elizabeth McLaughlin. "Breast cancer affects nearly 1 in 8 women, and the single biggest factor in beating breast cancer is early detection. Funds raised by Dutch Bros. are critical to supporting the Foundation's efforts to bring more awareness to breast cancer and to provide free mammograms to our community. This event is about saving lives."
All Pasco and Kennewick baristas will be decked out in pink, the internationally recognized color for breast cancer awareness and support.
Dutch Bros. Pasco, located at 6609 Burden Blvd., is locally owned and operated by Brad and Meghan Barnes.
"Cancer is a common enemy for all and touches almost everyone's life at some point. We relish the opportunity to rally the troops and help fight the good fight," said Brad and Meghan.
Dutch Bros. Kennewick is locally owned and operated by Nate and Krisanna Frary and consists of three locations, located at 4305 W. Clearwater Ave., 731 N. Columbia Center Blvd. and 3 W. Columbia Dr.
"Its a great way for our community to come together for an awesome cause to help out our local cancer center," said Nate and Krissana.
Join Dutch Bros. for a good cause by coming out for a cup and rocking the pink.
To learn more about DB Pasco, visit http://www.facebook.com/DutchBrosPascoWA.
To learn more about DB Kennewick, visit facebook.com/DutchBrosKennewickWA.
###