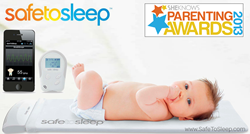 The SafeToSleep monitor is literally changing how parents protect their sleeping babies in cribs around the world.
Detroit, Michigan (PRWEB) September 25, 2013
SafeToSleep(R) (http://www.SafeToSleep.com) maker of the first home baby monitor that can monitor the breathing of a sleeping baby and alert parents of dangerous breathing events, has been nominated for Best Baby Monitor by the editors at SheKnows.com in their 2013 Parenting Award Competition. Marking what would be the fifth national parenting award for SafeToSleep this year, the editors at SheKnows handpicked the breakthrough infant breathing monitor based on functionality, quality, and innovation. Winners will be chosen by a public online voting process that ends October 7th. Winners will be announced on November 1st in the SheKnows.com "Best Of" editorial issue. Visit http://www.sheknows.com/parenting/awards/parenting-awards-2013/category/safety to cast a vote for the SafeToSleep Baby Monitor.
The only baby monitor of its kind, the Infant Breathing and Sleep Monitor from SafeToSleep uses advanced sensor technology to sense a baby's breath rate and relay the data to a smartphone or tablet in real time. The system continuously analyzes a baby's breathing pattern and will alert parents if the baby begins breathing too slow, too fast, or if the baby stops breathing altogether. The smartphone app includes digital features that generate reports on a baby's total sleep time and sleep quality, allowing parents and doctors to care for babies in ways that have never before been possible. The patented technology has been hospital tested and clinically validated to be as accurate as the wired cardiorespiratory monitors used in pediatric units around the world.
"We are thrilled to be selected by SheKnows.com as a finalist for Best Baby Monitor of 2013," says Dr. Ryan Santangelo, Co-Founder of SafeToSleep. "The SafeToSleep monitor is literally changing how parents protect their sleeping babies in cribs around the world. Infant breath monitoring is quickly proving itself to be the safest way to monitor sleeping infants and we are so happy to be helping families in this way."
The Infant Breathing and Sleep Monitor comes packaged with the wireless and portable SleepMat, a cotton cover, and a handheld Parent Unit for non-smartphone users. The free SafeToSleep app works on all Apple and Android smart devices. SafeToSleep products can be purchased at brick and mortar retailers across the United States and Canada or online at Target.com, BabiesRUs.com, Amazon, or at the company's website http://www.safetosleep.com/shopping.
ABOUT THE SHEKNOWS PARENTING AWARDS:
Each year, the SheKnows Parenting Awards program seeks out products that have set themselves apart as a leader in the parenting industry. The goal of the awards is to give SheKnows readers all the information they need to make educated decisions in their everyday lives – particularly when it comes to their kids! Nominated products are reviewed by the SheKnows team of editors and hand-picked for quality, functionality, convenience and more. Winners are determined via an organic online voting process open to the public and are announced on the SheKnows website each fall.
ABOUT SAFETOSLEEP:
SafeToSleep was co-founded by brothers, parents, and technologists Dr. Ryan Santangelo and Pete Santangelo in response to an infant death suffered by a family friend. Using their 15 years of tech entrepreneurial experience, Ryan and Pete developed the Sleep and Breathing Monitor, allowing parents for the first time to monitor the breathing of their sleeping baby with hospital accuracy and be alerted if the baby's breathing becomes irregular or dangerous. The company's sole mission is to help parents defend against the devastation of unexpected infant death by bringing hospital-accurate monitoring and alert systems into the home so that parents have the best chance of keeping their babies safe at the time when they are most vulnerable.