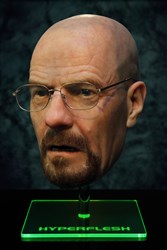 "It was the most fun I've ever had walking the (Comic-Con) floor!" said Cranston.
Denver, Colorado (PRWEB) September 25, 2013
Denver based artist Landon Meier (Hyperflesh.com), creator of the outrageously realistic "Charlie Sheen" and "Crying Baby" mask, is making history on Ebay. His "Heisenberg" mask, worn by actor Bryan Cranston, is currently commanding a whopping $17,000 - more than any silicone art mask in the history of Ebay.
The eerily realistic Walter White mask gained world-wide attention at the San Diego Comic Con event this year - as Cranston wore the mask and strolled "unrecognized" through the crowds as his own "Breaking Bad" character. The media frenzy from this event culminated in a memorable appearance on "Late Night with Jimmy Fallon": to the audience's delight, Fallon wore the mask and interviewed Cranston, who posed as his Breaking Bad character, Walter White.
Speaking fondly of his experience with the Walter White Heisenberg mask, Cranston stated: "It was the most fun I've ever had walking the (Comic-Con) floor!"
Internationally recognized, Landon Meier's Heisenberg mask was also seen on "Late Night with David Letterman," "The Colbert Report," and "LIVE with Kelly and Michael."
The painstakingly realistic mask was autographed by Bryan Cranston and later returned to Landon Meier, who is currently hosting the Ebay auction.
The auction is scheduled to end one hour before the final episode of Breaking Bad, September 29th, at 5:00pm PST.
Ebay link:
http://www.ebay.com/itm/121180069177