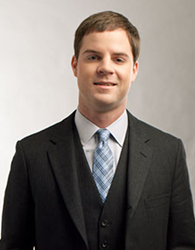 Greenville, SC (PRWEB) September 27, 2013
On September 17, 2013 Attorney Mark Foster of Greenville, SC was selected for membership into The National Trial Lawyers: Top 40 Under 40™ professional organization for the state of South Carolina. The National Trial Lawyers: Top 40 Under 40™ is a new professional organization comprised of America's top young trial attorneys. Membership is by invitation only and is extended exclusively to those individuals who exemplify superior qualifications, trial results and leadership as a young trial lawyer practicing civil plaintiff and/or criminal defense law. Selection is based on a thorough, multi-phase process which includes peer nominations combined with third-party research.
Mark Foster is a native of Greer, SC and received his Bachelor of Science degree in Criminology from the University of South Carolina in 2008. He graduated from the USC School of Law in 2011, where he was a member of the Health Law Society, as well as a participant in mock trial competitions. In February 2012, he joined the office of Attorney Steve Sumner. In July 2012, Mark graduated from the National Criminal Defense College and completed its Advanced Cross Examination course in March 2013. He is NHTSA certified in DUI Detection & Standardized Field Sobriety Testing, which is the same certification utilized by law enforcement. He handles the firm's General Criminal cases with a focus on DUI and Sexual Assault defense.