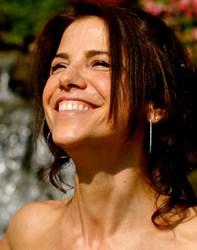 Pilates is meant to be practiced on a very regular, if not daily basis. My adage to Pilates instructors is to Practice what you teach!
New York, NY (PRWEB) September 30, 2013
Gail Giovanniello PMA® CPT - Owner of Mind Your Body Fitness and Director of Mind Your Body Pilates Teacher Training presents a series of three free Pilates Mat classes offered to the MYB Pilates instructors as well as clients - not just to hone their skills as teachers or students - but to instill in them the benefits of incorporating Pilates as a everyday or every-other-day self-practice. The free Pilates Mat classes will be Wed 10/2 at 1:30 PM; Thu 10/3 at 1:30 PM and Fri 10/4 at 11AM at the Mind Your Body Fitness locations on Lexington Avenue in the 90's.
Pilates is meant to be practiced on a very regular, if not daily basis. "Practice what you teach!" is what Gail is promoting this week in these three free Pilates Mat classes.  
Pilates can be learned and refined through private sessions experienced with strict attention to alignment, precision and control, through the group class structure in feeling more freedom to engage in the flow of a workout, but also as a self-study in which details normally given to a client by the instructor would have to be remembered on one's own. There is an adage, "If you want to master something, teach it," but Gail Giovanniello adds as well: "One must practice Pilates in order to teach Pilates! I have been encouraging the concept of self-practice for some time with my staff." Now she is offering these three free classes to give inspiration, motivation and camaraderie within her staff of Pilates colleagues.
The classes will be offered this week on three days:
WED 10/2 1:30 PM at the 90th Street studio
THU 10/3 1:30 PM at the 92nd Street studio
FRI 10/4 11 AM at the 90th Street studio
Check out some of Gail's Pilates Mat moves on this video:
Pilates UES Mat Exercises - Gail Giovanniello PMA® CPT
Gail's commitment to ongoing Pilates continuing education in regular offerings both for instructors and clients can always be viewed on the Pilates Workshops tab on the Mind Your Body website which consistently lists upcoming In-House Trainings which are given for the teaching staff but are also available to the general public.
Also see the complete Mind Your Body Fitness UES Group Pilates Class Schedule:
Over 50 Weekly Pilates Classes to Choose from on Pilates Reformer, Pilates Tower, Pilates Chair and Pilates Mat: each class with five or fewer students and available seven days a week
Complimentary press previews with Gail Giovanniello can also be scheduled for alternate times.
Press contact: Tim Driscoll 212-647-8878.