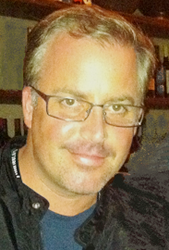 ...the TV industry's first website to deliver ideas from everyday people to production and global broadcast on major TV networks
Los Angeles, CA (PRWEB) September 26, 2013
Hollywood is no longer a "closed door" to outsiders with ideas for new TV shows thanks to TVWritersVault.com, now the TV industry's first website to deliver ideas from everyday people to production and global broadcast on major TV networks like Discovery Channel, A&E, SyFy and others. Two ideas recently pitched at the site and produced for global distribution include "Saw Dogs" (Discovery Channel, Velocity), and "Deals From The Darkside" (A&E Aus., SyFy), both having been ordered to series after the concepts were reviewed by Producers at the TV Writers Vault.
Scott Manville, a former TV Executive for Merv Griffin Entertainment, created the site to connect new writers and creators with the many TV Producers he knew were feverishly scouting for new projects specifically within the reality-based genre of programming. "After years of connecting Writers and Producers, we've finally seen the potential of our service come to fruition", said Manville, adding, "Its a real breakthrough, not just for people with great ideas for shows, but for the TV Industry itself as they progress in this digital age and now have a method to directly source great projects from people they otherwise would never meet". With the airing of "Saw Dogs" and "Deals From The Darkside", The TV Writers Vault now claims an historical role in television and Internet history as being the first website to deliver ideas from the general public for successful production and broadcast.
To date, the site has connected hundreds of new Creators with top Production Companies, resulting in dozens of deals secured by "idea people" from all walks of life, and all corners of the country. Some of the top companies registered at the site to source new projects include; RelativityReal, Fox TV Studios, Sony Pictures TV, CBS Studios International, Buck Productions, and other producers in all genres of programming. Writers may submit a synopsis of their concept, and receive electronic proof of review when viewed by any company. When a Producer requests contact to pursue the project, the site connects the parties for direct discussions and deal proposals. The TV Writers Vault takes no financial participation in any sale, charging only a nominal listing fee per project pitched.