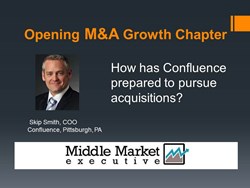 Pleasantville, NY (PRWEB) September 25, 2013
Middle-Market Executive (MME), the first content platform dedicated to reporting on the unique priorities and challenges of growing middle-market companies, is launching a series of rich-media thought leadership interviews designed to showcase the innovative business thinking behind many of today's high-growth firms.
Long overlooked by the traditional business press, lower-middle-market companies ($20 million to $300 million) have become widely recognized as the primary fuel for America's job-creation engine, and yet seldom are the business leaders responsible for driving this growth asked to share their thinking on what it takes to grow a business.
"We began by asking middle-market CEOs how their firms grew, and we were amazed at the wealth of deep industry insights that quickly landed in our laps. Our next questions became, 'How do we share this with our greater audience? And how do we make it as impactful as the business leader's own words?'" explains Middle-Market Executive's editor-in-chief, Jack Sweeney, who says that MME's Growth Monitor platform will be incorporating MME's actual reporting using video, interactive visuals, and audio recordings.
"Our Growth Monitor features have quickly become our most widely shared content items on the Web, and what gets shared these days is provocative original thinking packaged in a shareable rich-media format," adds Sweeney, in noting that Growth Monitor's use of dynamic content could not be better timed in light of the middle market's escalating appetite for social and mobile content.
"These days, we like to compare the main site to a departure gate at the airport. In other words, it's about where our content is going, and Growth Monitor is traveling everywhere that middle-market firms reside," continues Sweeney, who notes that MME Growth Monitor is already a favorite venue for marketing partners. Other marketing options include Middle-Market Executive Digital Supplements, Middle Market Executive Bulletin (a weekly e-newsletter), MME webinars, and MME Research Studies.
For more information or to learn about content partnering and marketing opportunities, please call 914-769-5327, email info(at)middlemarketexecutive(dot)com, or visit http://www.middlemarketexecutive.com.