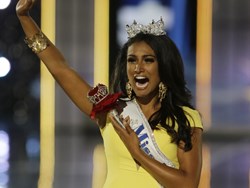 Nina Davuluri, Miss America 2014
New York, NY (PRWEB) September 25, 2013
MackTak.com, a global retail leader for evening, prom and cocktail dresses, is proud to feature many designer pageant dress styles showcased on Sunday's Miss America Pageant. Tony Bowls and Mac Duggal, world renowned designers whose exquisite eveningwear, cocktail and pageant dresses are featured on MackTak.com, were represented in high fashion by many Miss America contestants. For those want to make a statement at any formal event, get Miss America eye-catching styles with fantastic
details, fitted silhouettes and high quality fabrics at MackTak.com.
Tony Bowls, known for his innovative ideas in the world of pageantry, prom and social occasion wear, was well represented at this year's Miss America Pageant. Miss Louisiana, Jaden Leach; Miss Missouri, Shelby Ringdahl; and Miss Florida, Myrrhanda Jones, all wore gorgeous dresses by Tony Bowls.
Miss Missouri's long sleeve plunging V-neck evening gown (213C31) was particularly stunning with its crystal waist embellishments and corresponding elegant cuffs on the sleeve. The high slit finishes off this trendy, sexy dress created glamour as the beading glimmered and gleamed brilliantly under the stage Mac Duggal had a spectacular night as well with 18 dresses worn throughout the evening by the contestants. Miss Illinois, Brittany Smith, looked fantastic sporting a trendy peplum mermaid dress with asymmetrical collar (70002R) from the Black White Red Collection. This dress features flattering angular lines and a gold belt that cinches in the waist.
Fourth Runner-up, Miss Minnesota, Rebecca Yeh, wore two Mac Duggal dresses. The detailing on her cap sleeve evening dress, (43003P) from Mac Duggal's Pageant line, was exceptionally beautiful with a crystal bust embellishment, side slit and an open back.
Every dress looked as elegant and glamorous as the contestant who was wearing it to show off each individual style and beauty. Check out these perfect pageant dresses and many more at MackTak.com
About MackTak:
MackTak is the largest global retailer for evening, prom and cocktail dresses. Founded in 2010 by Mack Tehrani, the company caries more than sixty designer brands and their own private label. Based on the ideation of 'Good Deeds, Good Thoughts, and Good Words,' MackTak prides themselves on constantly improving and strives to exceed the expectations of their fashion forward company. For more information visit http://www.macktak.com/.