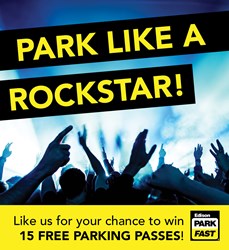 Newark, NJ (PRWEB) September 25, 2013
Finding a parking spot is always a headache for city dwellers. But imagine being able to leave your car in a top-notch parking facility close to wherever you're going… absolutely free? It's not just a dream; it will be reality for the lucky winner of the Edison ParkFast Sweepstakes. The company is offering a grand prize of 15 parking passes at any of its 40 locations in New York City, Northeastern New Jersey and Baltimore.
"Let's be frank; parking is a drag," said Stacy Stuart, Executive Vice President of Marketing and HR for Edison Properties, the parent company of Edison ParkFast. "It's something you want be done with quickly and easily. That's why we offer so many locations, and why our managers and attendants do everything they can to make the parking experience as painless as possible. And whoever wins this prize will be extra-happy parking with us, because they won't have to pay anything for the next 15 visits!"
People can enter the ParkFast sweepstakes by clicking on the company's Facebook page or in person, at its 50 West 44th Street location, at Manhattan's Hippodrome office building. There is no purchase necessary, and the contest runs through Dec. 1, 2013.
Edison Properties is the family-owned parent company of Edison ParkFast – 40 gorgeous garages and parking lots throughout New York City, as well as Northeastern New Jersey and Baltimore. Other properties include Manhattan Mini Storage, New York's self-storage leader and one of the city's favorite brands, thanks to their famous subway ads and billboards. Edison also owns and operates WorkSpace Offices, Executive Offices and Pre-Built Suites, the Hippodrome office building and the Ludlow, a luxury residential high-rise on the Lower East Side.
For more information about Edison ParkFast, visit http://www.ParkFast.com. And to learn more about Edison Properties, please contact Stacy Stuart, Executive Vice President of Marketing and Human Resources, at 973-849-2556.