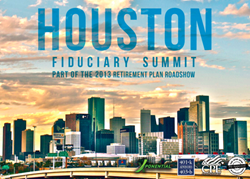 Houston, TX (PRWEB) September 26, 2013
The 2013 Houston Fiduciary Summit is one of the nations top educational events featuring local and national expertise and diverse plan sponsors discussing best practices and evaluation strategies.
Guest speakers will feature: Scott Buffington – VP at MassMutual Retirement Services discussing "The Link Between Retirement, Healthcare, and Benefits". John Livingston- Senior Plan Consultant at 401(k) Advisors leading panel discussion on Target Date Funds with representatives from BlackRock, J.P. Morgan, Manning & Napier, and T. Rowe Price. Julie Ward- VP, Consulting at 401(k) Advisorsdiscussing "Evaluating the Reasonableness of Plan Fees in Light of New Disclosures". Rance Buss, CPA – Partner at McConnell & Jones LLP providing his insights on "Retirement Readiness – The Plan Fiduciary's Role".
The summit will also feature special guest speaker Muffy Davis- World Class Athlete and Paralympic Gold Medal Winner. Muffy has won more than 25 World Cup titles, two Overall World Cup victories and four Paralympic Games Medals.Muff will be sharing her story as World Champion disabled ski racer and her motivational strategies.
The 2013 Houston Fiduciary Summit will be the thirteenth stop of the Retirement Plan Roadshow and will be held at the JW Marriot Houston on October 2, 2013 from 11:00 AM to 2:30 PM (Lunch will be served). The 2013 Houston Fiduciary Summit is approved for 3 CPE/CPA Credits and 2.5 HRCI/SPHR/PHR/GPHR General Credits. Seating is limited and local plan sponsors will receive priority registration. For additional details and registration information can be found here.
About 401(k) Advisors
401(k) Advisors provides independent retirement plan consulting services to major and mid-sized private and institutional plan sponsors, and currently oversees over $17 billion in assets under advisement. The firm is recognized for best practices in retirement planning, investment due diligence, vendor service and fee benchmarking, compliance processes, and education for sponsors and participants.
http://www.401kadvisors.com
About Xponential Growth Solutions
Xponential Growth Solutions (XGS) unites 401(k), 403(b) and retirement plan sponsors with elite resources and exclusive connections. Through research, fiduciary summits, and industry expertise, they help the nation's retirement plan sponsors, fiduciaries, and trustees evaluate their plan and navigate the retirement plan industry. Working to help America reach their retirement goals one retirement plan at a time, XGS also founded the Retirement Plan Roadshow, a national series of fiduciary educational summits dedicated to human resources, finance and business professionals in charge of America's 401(k), 403(b), and retirement plans.