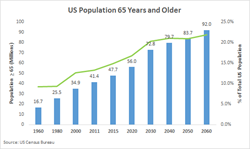 New York, NY (PRWEB) September 25, 2013
Americans are getting older. In fact, the US Census Bureau estimates that the number of Americans over the age of 65 will grow from 41.4 million people in 2011 (13.3% of the total population) to 72.8 million in 2030 (20.3% of the population). Faced with this "Silver Tsunami," ElderBranch recently completed a 3-part series which describes the current state of geriatric medical care and provides examples of institutions working to ensure that Baby Boomers will continue to receive high quality care as they grow older.
In Part I of its series, ElderBranch examines the shortage of geriatricians in the United States. With roughly 7,600 certified geriatricians, data from The American Geriatrics Society suggests that the U.S. is currently facing a shortage over 10,100 geriatricians.
As a result of this shortage, a larger percentage of elderly patients see non-specialized internal medicine physicians instead of geriatricians, resulting in less-than-ideal care for those patients. Furthermore, to combat the shortage in geriatricians, many geriatric practitioners in academic medical centers have been forced to spend a meaningful portion of their time training and consulting with physicians in other specialties, rather than providing direct patient care. This results in not only sub-optimal optimization of geriatricians' training, but it also further exacerbates the shortage of practicing geriatricians.
In Part II of its series on geriatric medical care, ElderBranch interviewed the program directors from The Medical College of Wisconsin's (MCW's) Medicine-Geriatrics Combined Residency Program and Eastern Virginia Medical School's (EVMS's) Combined Internal Medicine & Geriatrics Residency Program. These two programs offer the nation's only geriatric residency programs, providing a pathway for graduating medical students to combine their training in internal medicine or family medicine with training in geriatrics.
MCW's and EVMS's unique geriatric-medicine residency programs allow newly-minted physicians who are passionate about pursuing a career in geriatric medicine to receive more geriatric training earlier in their careers. Furthermore, MCW and EVMS residents receive longitudinal training through which they follow geriatric patients throughout their four year residency program, learning about the progression of their patients and developing relationships that are simply not possible in a traditional one or two year geriatric fellowship.
As the population continues to age and the shortage of geriatricians becomes more glaring, academic medical centers across the country are likely to look at the combined geriatric-medicine programs at The Medical College of Wisconsin and Eastern Virginia Medical School as models for how to train more geriatricians.
In the last part of its series, ElderBranch took a look at the state of geriatric nursing and found that there, too, existed a major shortage of specially-trained geriatric care providers.
According to the American Geriatrics Society, less than 1% of registered nurses (RNs) and less than 3% of nurse practitioners (NPs) are certified in geriatrics. Beyond that, many nurses lack even basic training in the care of older adults. According to the Hartford Institute on Geriatric Nursing, less than one out of every three undergraduate nursing programs in the U.S. require a course focused on geriatrics. This lack of training exists despite that fact that, according to the CDC, elderly patients accounted for 39% of hospital discharges in 2010.
The lack of formal geriatric training many nurses have received has created the need for geriatric training after nurses have already entered the workforce. Based at New York University's College of Nursing, the Nurses Improving Care for Healthsystem Elders (NICHE) program provides interested hospitals with state-of-the-art training, tools, and resources to educate nurses and to stimulate a change in the culture of healthcare facilities to achieve patient-centered care for older adults.
After receiving NICHE-designation, hospitals nationwide have seen improved clinical outcomes, positive financial results, enhanced nursing competencies, and greater patient, family, and staff satisfaction. The program has grown to include almost 500 hospitals throughout North America, including 28 of the US News & World Report's Top 50 Hospitals for Geriatric Care.
As the population continues to age, America's shortage of specially trained geriatric physicians and nurses will continue to grow. As a result, enterprising institutions such as The Medical College of Wisconsin, Eastern Virginia Medical School, and Nurses Improving Care for Healthsystem Elders will continue to fill that void and ensure that America's elderly population receives the medical care they need.
About ElderBranch
ElderBranch is an online information portal that helps people find and evaluate long-term care providers. ElderBranch's mission is to support users in making the best decision possible for themselves and their loved ones.