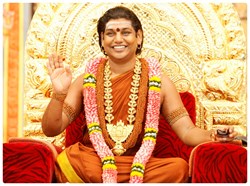 Whoever Lives with the Truth Life is for Others, Lives the Best Life - Paramahamsa Nithyananda
Los Angeles, CA (PRWEB) September 24, 2013
In a welcome landmark move from the media, national television news channel Aaj Tak aired public apology to Paramahamsa Nithyananda for having aired a defamatory news item featuring the morphed video. In a written apology, TV Today Network Limited informed Paramahamsa Nithyananda that the said apology was aired on Aaj Tak on 18th September 2013 at 23:00 hrs and 19th September 2013 at 12:30 hrs. The media house thereby requested to accept the apology and take no further action.
About His Holiness Paramahamsa Nithyananda
His Holiness Paramahamsa Nithyananda is a world teacher in the science of living enlightenment. As a spiritual head of Maha Nirvani Peeth, the world's oldest apex body of Hinduism, he is revered as a living avatar (divine incarnation) by millions worldwide. He is the most-watched spiritual teacher on YouTube.com with more than 16 million views, and the author of more than 200 books published in 27 global languages. In 2012, Nithyananda was named among the world's top 100 spiritually influential personalities by renowned esoteric magazine 'Mind Body Spirit' from Watkins.
A spiritual genius with an enlightened insight into everything from management to meditation, from relationships to religion, and from success to spirituality, Nithyananda brings to us a wealth of practical wisdom, meditation techniques, kriyas and tools for lasting inner transformation. A trained yogi, a powerful spiritual healer and a siddha, Paramahamsa Nithyananda is working actively with scientists and researchers worldwide to decode the mystical yogic sciences of the East, including levitation, teleportation and materialization. In the past ten years, attempts have been made to map Nithyananda's extraordinary brain, energy levels, mitochondria and DNA, and the scientific fraternity is continuously stunned by the results of whatever they can evaluate.
His Holiness Paramahamsa Nithyananda conducts the 21-day Inner Awakening program, a spiritual retreat to help seekers across the world experience a taste of enlightenment. More information about this program is available on http://innerawakening.org.