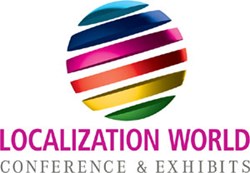 Our program offers sessions that help attendees learn how to more effectively manage multiple language content, global websites and other critical factors in today's market.
Santa Clara, California (PRWEB) September 25, 2013
More than 600 global business executives from 45 countries are expected to attend this autumn's Localization World 2013 conference in Santa Clara, October 9-11. The conference, which features nine tracks related to "Know-How for Global Success," has a special focus on localization in a shifting global economy.
Localization World brings together delegates who are engaged in the business of adapting products, services and communications to an international language or culture so as to appear native to that particular region. Speakers at the conference include representatives from Adobe Systems Inc., Chevron Company, Dell, eBay, Google, Intel Corporation, Microsoft, PayPal, SAP, and many others including well-known analyst groups. The conference, produced by MultiLingual Computing, Inc. and The Localization Institute, will be held at the Santa Clara Convention Center.
Robert Lane Greene, author of You Are What You Speak: Grammar Grouches, Language Laws, and the Politics of Identity and The Economist's language blog, Language Johnson, will deliver the keynote address. Greene is a correspondent for The Economist and his writing has appeared in The New York Times, New Republic, Daily Beast, Slate, CNN.com and elsewhere. He is also a frequent television and radio commentator and a term member of the Council on Foreign Relations.
The pre-conference day will include full-day and half-day workshops, as well as round tables on Agile Implementation, Life Sciences, Game Localization and Localization Sales and Marketing.
"This conference represents an opportunity for seasoned professionals as well as executives who may now be entering the international field to learn from experts from around the world on how to reach new audiences both at home and abroad," says Donna Parrish, publisher of the magazine MultiLingual and co-organizer of Localization World, "We have a preconference session on localization for start-ups, sessions on game localization, developing a global content strategy—sessions that touch nearly every industry."
Attendees may choose from nine tracks during the main conference: Global Business, Global Web, Content Strategies, Translation Automation, Core Competencies, Advanced Localization, Unconference, Language Service Provider and Inside Track.
Some highlighted presentations include:

Content Strategy in a Multilingual World
Globalization Strategy: The Next Growth Opportunity
International Brand Check: Do It Yourself in Ten Simple Steps
When the Sky Comes Tumblin' Down — Work Solutions to Revolutions
The full conference program is available at http://www.localizationworld.com/lwsv2013/program.php.
According Ulrich Henes, the conference co-organizer and president of The Localization Institute, the event is valuable for people responsible for communicating across the boundaries of language and culture—within their home country and abroad. "It's been proven that communicating with customers or users in their native language increases their satisfaction level and willingness to do business with you."
"Our program offers sessions that help attendees learn how to more effectively manage multiple language content, global websites and other critical factors in today's market. Of course, many people also attend for the networking opportunities and to check out the latest developments from leading vendors in the exhibit hall."
Event sponsors include: Lionbridge, Net-Translators, Welocalize, Xerox, Moravia and Smartling.