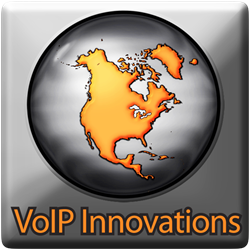 Pittsburgh, PA (PRWEB) September 24, 2013
The release of the VoIP Innovations new Customized Rate Deck feature is the latest offering added to their leading-edge wholesale SIP termination service. This new feature provides their customers with the ability to choose which termination carriers to include in their rate deck and which carriers to block. This real-time price and quality termination management system gives complete control to their resellers – something not very prevalent in today's SIP termination market.
This sounds great but having complete control over carriers can dramatically impact price (cost per minute) & quality (PDD-post dial delay), which creates headaches. The VoIP Innovations' solution was to provide preset template options along with a unique monitoring tool. The presets are simply four pre-configured options (All Carriers, Best Price, Best Quality, Fax/T38,) created to be used as templates. Each template can be further customized to meet the needs of the customer.
Along with the preset options is their monitoring tool. The monitoring tool allows resellers to view a Rolling 30-Day vs. Daily metrics regarding cost per minute and PDD. This is a great way for resellers to see how each carrier effects their price and quality. These key performance metrics allow customers to tweak the carriers used to match their calling patterns, which maximize price and quality. If a customer were to make an unfavorable change, the intuitive History tool included in the feature tracks the changes so you can revert them if desired.
It's well known that wholesale termination rates fluctuate very similarly to gas prices. This volatility can cause pricing peaks and valleys. To address this issue, VoIP Innovations created a proprietary rate and route change solution giving resellers additional transparency into underlying carrier (ULC) changes. This solution constantly checks for rate/route changes, updates the reseller's rate deck and displays this rate deck for download.
The days of termination providers supplying an unmanageable static rate deck are over. The next generation termination providers are handing the reins over to the market by providing more transparency, flexibility and authority than ever before. For more information on the VoIP Innovations Customized Rate Deck, please visit their detailed Wiki article.
VoIP Innovations is an Inc. 5000 company that specializes in providing the largest DID and termination VoIP footprints in North America. Their network includes over 500,000 DIDs in stock in over 8,500 rate centers in the US and Canada. Recently, VoIP Innovations expanded their footprint to include DIDs in over 60 countries and now offers A-Z termination. VoIP Innovations is owned by ABG Capital and is based in Pittsburgh, PA. To learn more about VoIP Innovations, visit their company blog.