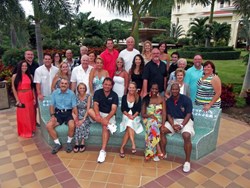 (PRWEB) September 25, 2013
Solar pool heaters installers and salesmen work hard during a relatively narrow selling season to help pool owners enjoy a longer and more comfortable swimming season. Historically, spikes in sales of solar pool heaters are directly related to the seasonal opening and closing of swimming pools. Pool owners wanting to open their pool earlier or close it later provide a surge in sales each spring and fall, leaving our Dealers with a brief window each summer for some scheduled downtime. For many Aquatherm Solar Pool Heater Dealers, the manufacturer's Annual Summer Sales Retreat is part of that rest and relaxation.
This past July, Aquatherm Industries held its 21st Annual Retreat in beautiful Costa Rica at the all-inclusive Hotel RIU Guanacaste. This year's trip marked the second Retreat held in Costa Rica since 2005. In Costa Rica, there is a saying, "Pura Vida," which literally translated means "The Good Life." Totaling almost 30 in number, including Master Dealers and their guests, the Aquatherm group certainly enjoyed some Pura Vida in the sun-drenched tropics.
Some of our more adventurous Dealers booked off-site excursions to raft the country's famous white water or zip–line through the lush jungle canopies, while others spent a day surfing in nearby Tamarindo, or relaxing in the soothing all-natural hot springs and volcanic mud baths, a result of the country's 200-plus volcanoes.
In the end, our group made some lasting memories in Costa Rica, adding to the 21-year history of Summer Sales Retreats. Past locations have included the Florida Keys, Jamaica, Barbados, Puerto Vallarta, and even Alaska.
Dates and location for the 2014 Retreat have already been decided, and per tradition will be announced at January's Kick-Off Meeting for Master Dealers and Distributors in Orlando, FL.
About Aquatherm:
An ISO 9001:2008 registered company, Aquatherm Industries, Inc. is the largest U.S. manufacturer of low-temperature, unglazed polymer solar thermal collectors – primarily used for residential and commercial swimming pool heating, as well as domestic hot water and process pre-heat applications.
Within the company's "pellets to panels" approach, Aquatherm's extrusion, welding, and injection molding processes have been awarded four U.S. and two International Patents for its technology. In addition, Aquatherm's collectors were the first NSF-50 listed solar collectors in the world. Aquatherm Distributors currently serve all of North, Central, and South America, Australia, New Zealand, Hawaii, France, Egypt, and Jordan.