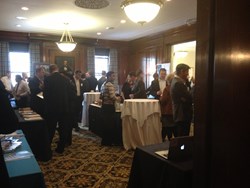 New York, NY (PRWEB) September 26, 2013
In addition to its current three levels of Affiliate participation (Platinum, Silver, and Bronze), the WSTA is pleased to introduce its Achievement Program. The WSTA® Achievement Program allows information technology vendors and consultants that offer services and solutions to the financial industry, opportunities to get more recognition by taking educational speaking and other sponsorships, which allows WSTA financial firm members to attend these events at no charge.
For over 15 years, Affiliates have contributed significantly to the WSTA by sponsoring educational and networking programs for its ~2,500 financial firm members at over 50 different firms. Financial industry prospects are also invited to attend WSTA events.
The WSTA's most prestigious Affiliate level, Platinum, provides an opportunity for company representatives to meet with the WSTA Board and Committee members to discuss and build relationships. It also includes an educational speaking opportunity at a WSTA seminar as well as many other ways to share information and network with financial industry professionals.
The Silver and Bronze levels also provide various opportunities to share educational information through seminar attendance, educational articles, white papers, etc. Through the Achievement Program, Silver and Bronze have the opportunity to reach higher Achievement levels by sponsoring educational and networking events, which allow WSTA financial firm members to attend at no charge.
Remaining 2013 WSTA Events:
"Meetup" Networking Event
Oct. 1, 2013: New York City
"Big Data, Cloud and Security—The Winning Combination" Seminar
Oct. 24, 2013: Boston
"Hot Tech Trends: Cloud… Cybersecurity… Big Data… Mobility" Seminar
Nov. 7, 2013: New York City
"Holiday Gala" Premier Networking Event
December 5, 2013: New York City
Profile
For over 45 years, the Wall Street Technology Association (http://www.wsta.org) has provided financial industry technology professionals, vendors, service providers, and consultants forums to learn from and connect with each other. The WSTA facilitates educational seminars and networking events where members meet and exchange ideas and best practices that assist them in effectively capitalizing on technology advances and dealing with financial industry business challenges. Founded in 1967, the WSTA is a not-for-profit association with a long history of evolving to meet the needs of its members.
Affiliates and sponsors are an integral component of the WSTA. As a not-for-profit organization, they contribute significantly by providing the resources needed to run the educational and networking programs for WSTA financial firm members. These programs strengthen the bond between members and companies that serve the technology needs of the financial community.
The WSTA currently has over 200 technology firms that participate in the WSTA as an affiliate or sponsor. Companies that provide cloud, big data, mobility, security, software, infrastructure, networking, social, telecom and other industry-related solutions find the WSTA an invaluable forum to create awareness, educate and develop relationships with financial industry professionals.